Healthy Soups
Cabbage Weight Loss Soup (Cozy, Comforting and Nutritious)
I can't get enough of this fat-burning cabbage weight loss soup with cumin, fennel, and red chili flakes! Easy and delicious.


Cabbage is more than just sauerkraut and coleslaw, so let's stop putting a fence around this beauty of a healthy vegetable. This cabbage soup helps with weight loss using soluble fiber, antioxidants, and aromatics like fennel and cumin. It also happens to taste amazing.
Does Cabbage Soup Really Work for Weight Loss?
Nutritious and inexpensive, the humble cabbage is one of those vegetables that should be included often in our diet. This relative of kale is loaded with exceptional nutrients to help you create balanced meals with varied, whole ingredients. Eating this way and including cabbage in your diet a few times a week will help clean your digestive system, nourish the cells of your colon, nurture your body with antioxidants and, in turn, support healthy weight loss.
Soup is one of my favorite ways to enjoy cabbage, because it's light, easy to make, low in calories, and it preserves most of the nutrients. Because cabbage contains lots of fiber that isn't broken down even after 20 minutes simmering in soup, it's extra-good news for weight loss.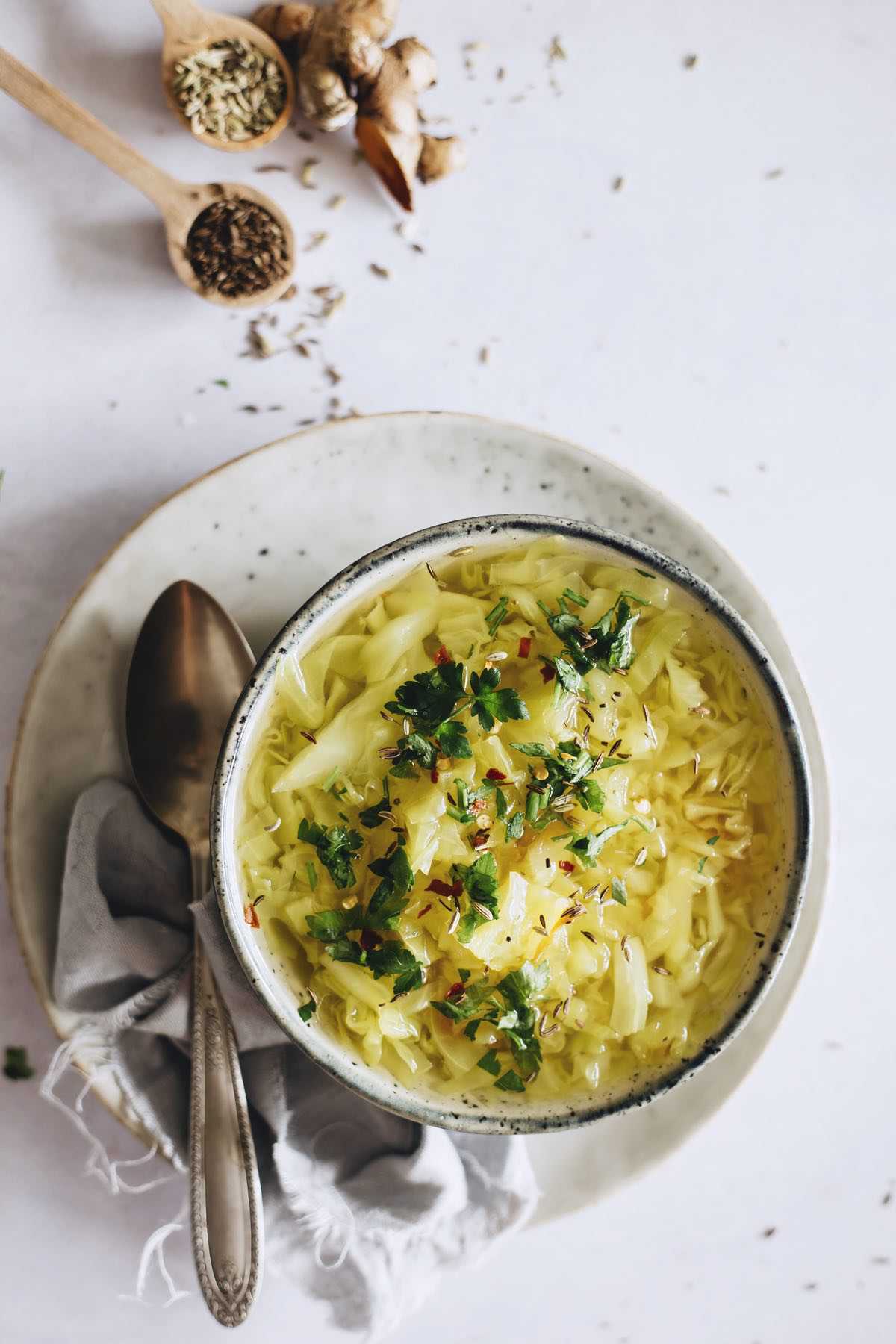 The fiber content in this cabbage weight loss soup nourishes the good bacteria in your gut, keeping your body's natural flora in balance and is a great way to help support overall wellness. As a bonus, fiber helps keep you full longer after a meal, so you can count on this cabbage weight loss soup soup keeping you satisfied until your next meal.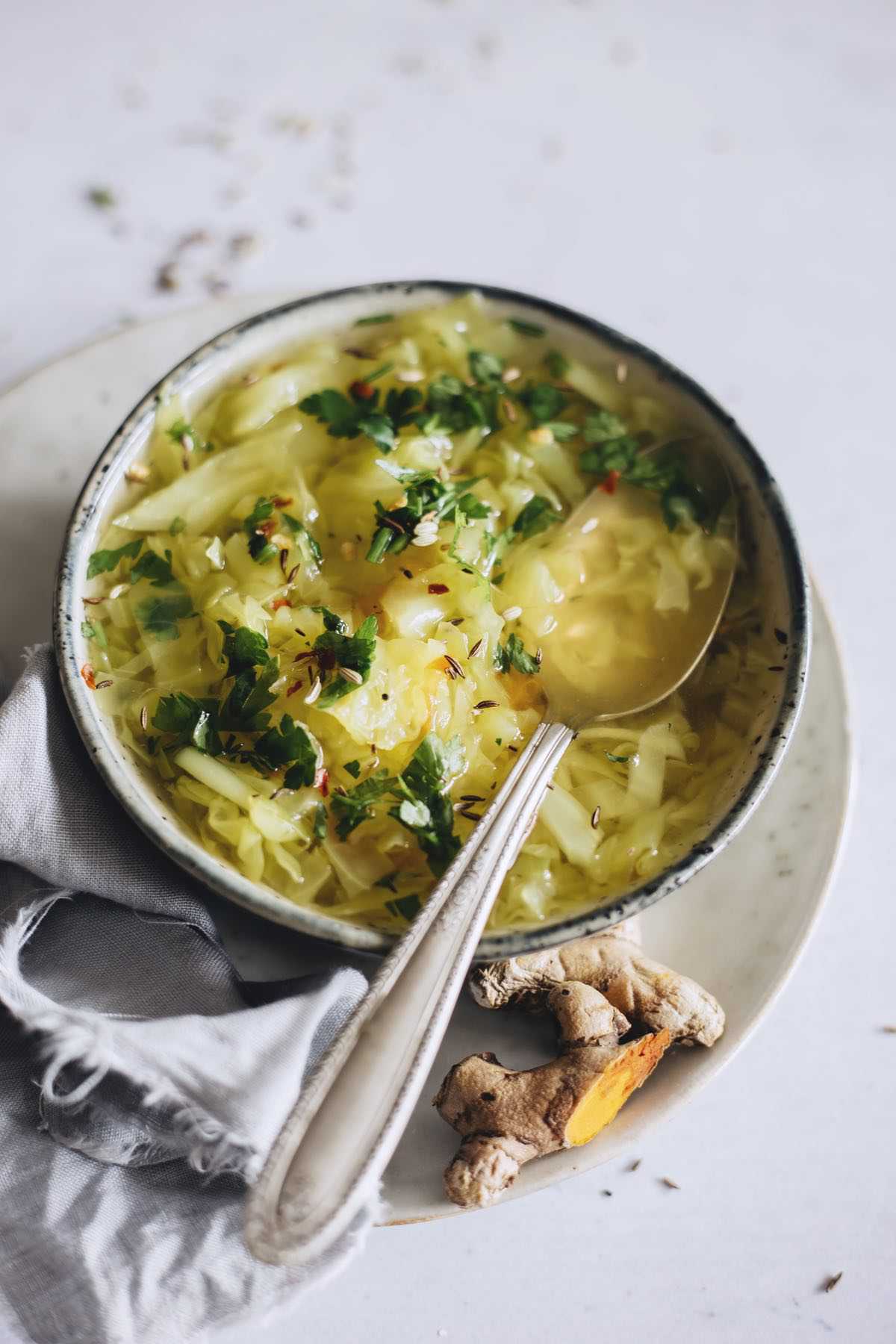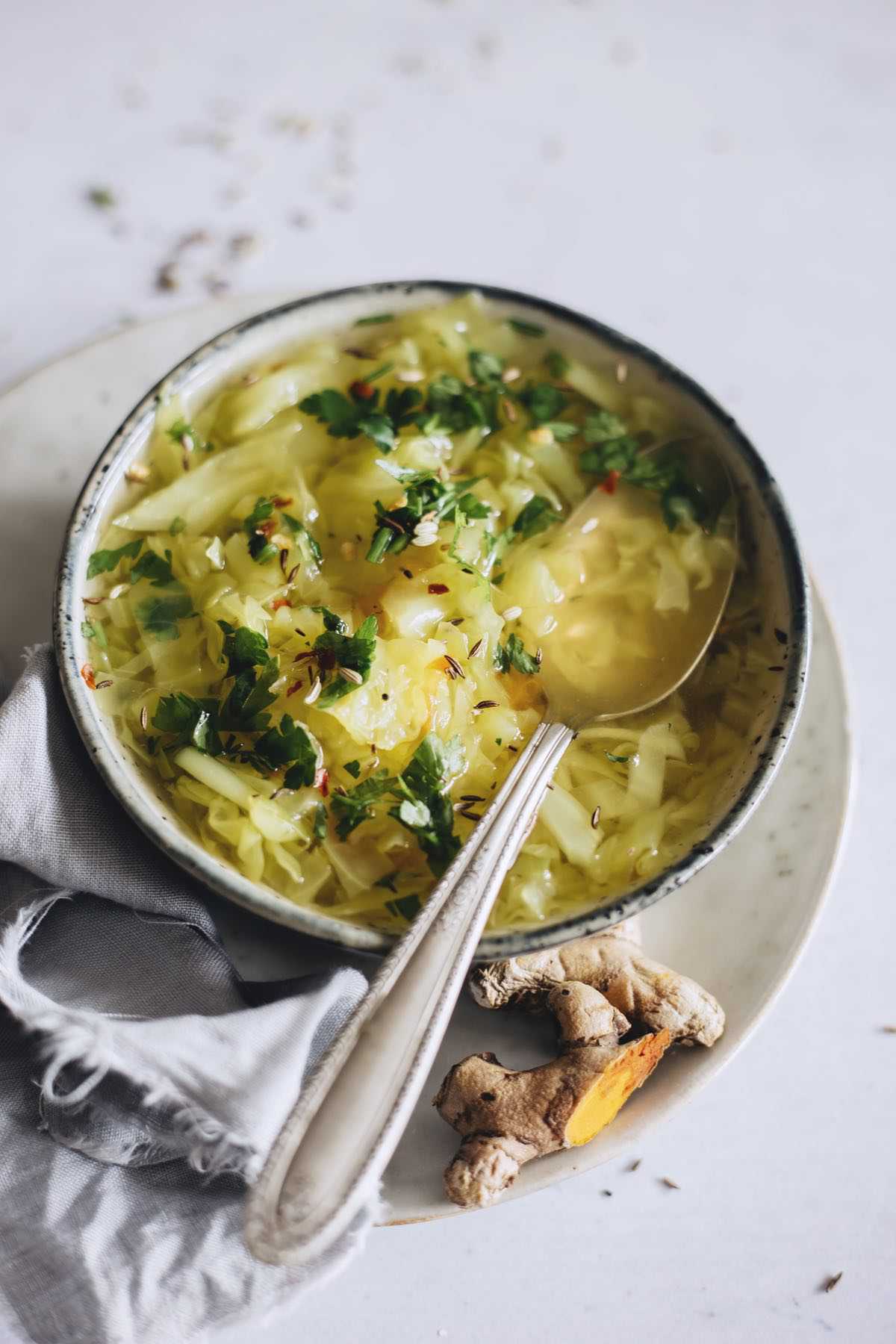 I often like to include aromatics in my cooking, because not only do they dramatically enhance the flavor of dishes like soups and stews, but many of them have their own special properties. Fennel and cumin seeds are soothing to the digestive tract, which can help minimize bloating. They're the perfect addition to cabbage soup!
I also like adding tomatoes, because the slightly acidic quality helps balance the soup's flavors while loading it up with antioxidants like beta-carotene and cancer-fighting lycopene. This cabbage soup is great for supporting weight loss, but I make it any time I want a nourishing meal to make me feel both cozy and energized.
Print
Cabbage Weight Loss Soup
Scale
1 medium cabbage head, finely chopped
1 yellow onion, finely diced
1 can tomatoes or 2 ripe tomatoes, grated
4 cups purified water or low sodium vegetable stock
1 tsp turmeric powder
1/2 tsp fennel seeds
1/2 tsp cumin powder
1/2 tsp caraway seeds
1/4 tsp red chili flakes
Freshly ground black pepper
1/4 tsp sea salt
1 tsp coconut oil
In a large soup pot, heat the coconut oil over low heat, add the diced onion, cumin, caraway, chili, fennel seeds and turmeric, and cook for two minutes, stirring frequently.

Add the cabbage and cook for five minutes, stirring every now and then.

Add the purified water/vegetable stock and tomatoes, mix to combine, bring to boil, then cover the pot with a lid and simmer for 15-20 minutes.

Serve warm or cold. The soup keeps for up to a week in the refrigerator.
More Weight Loss Recipes: