Healthy Soups
Turmeric Tomato Detox Soup
I am a big fan of the Mediterranean ingredients (olive oil, tomatoes, chickpeas), but I love to combine healthy ingredients from different gastronomies to obtain new ways of nourishing my body and help it with its natural detox function. This time I played with Indian and Mediterranean flavors and I obtained a comforting soup, loaded with antioxidant and anti-inflammatory nutrients.
Tomatoes are among my favorite vegetables – I use them in salads or sandwiches, I roast them but very often I add them in soups. They flavor always reminds me of my beautiful Italian holidays, and when you eat something with pleasure, your body will feel energized. I usually combine them with aromatic herbs like oregano or basil, but this time I decided to go a little bit further and pair them with a powerful oriental superfood – turmeric. Turmeric is the root of the plant called Curcuma, and has an warm, peppery flavor, with mild fragrances of orange and ginger, and an intense yellow-orange color. You can use the whole root or the powder obtained from grinding it – either way, you will benefit from amazing its anti-inflammatory action, which made it the favorite ingredient in Indian and Chinese traditional medicine.
Cucurmin, the yellow-orange pigment, is also the compound of turmeric which has the anti-inflammatory action. The action of cucurmin on body health is vast, mostly related to stimulating the liver detox function, and these are only some of the benefits of this miraculous ingredient:
– It has anti-inflammatory effects comparable to drugs like hydrocortizone, but without its negative side effects.
– Contributes to the digestive system health and acts like a treatment for Chron disease, ulcerative colitis and other IBD diseases (inflammatory bowel disease).
– Is a good ally during the fight against cystic fibrosis.
– Its antioxidant action makes it an alternative medicine for curing and preventing cancer, inhibiting the growth of cancer cells by stimulating the detox function of the liver. Curcumin effects are especially applied for preventing and curing colon cancer (especially when paired with onions) and prostate cancer (paired with cauliflower).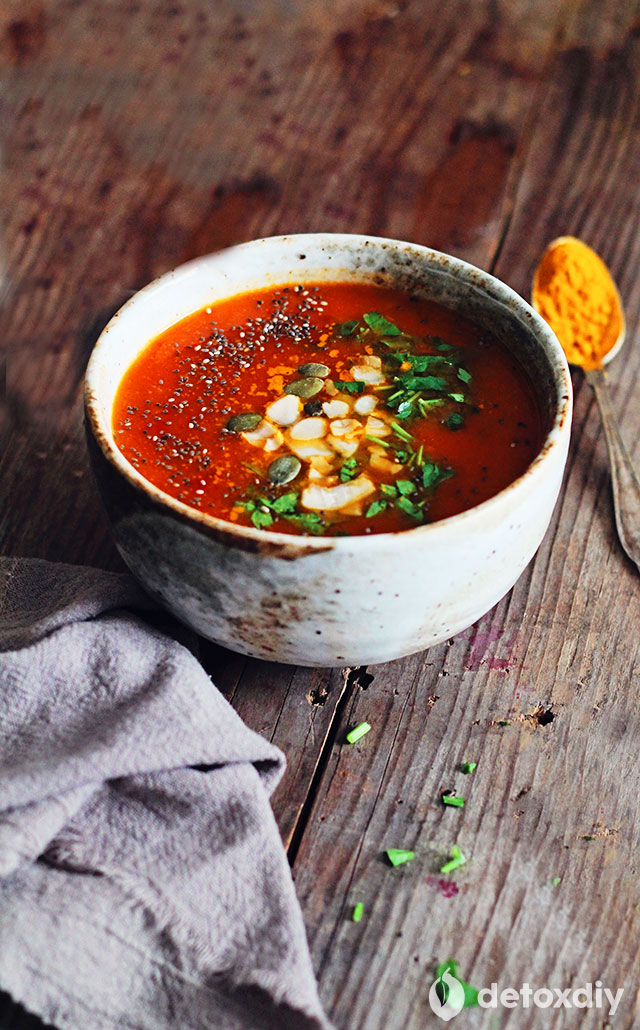 Tomatoes are an exceptional source of a powerful antioxidant called lycopene, another ally in the fight against chronic diseases including cancer. Chronic diseases are mainly caused by oxidative stress and inflammation, so pairing the antioxidants in tomatoes with the magical anti-inflammatory action of turmeric has fantastic benefits for your body health. Cucurmin is better absorbed by our bodies when paired with black pepper, so make sure you use this abundantly in your soup.
Print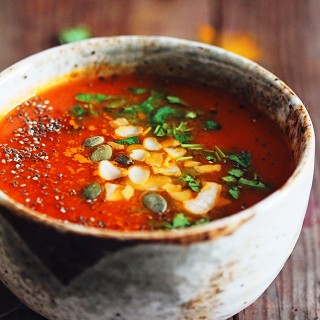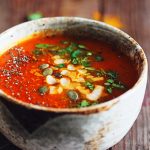 Turmeric Tomato Detox Soup
Author:
Yield:

2

1

x
Category:

Vegan
Scale
5 oz

cherry tomatoes, rinsed and cut in halves

1

can diced tomatoes with their sauce

½ cup

low-sodium vegetable stock

1

small onion, finely diced

2

garlic cloves, minced

2 tsp

turmeric powder

1 tsp

coconut oil

½ tsp

sea salt

1 tsp

dried basil

1 tbsp

apple cider vinegar
Freshly ground black pepper
Mixed seeds and nuts, to garnish
Heat the coconut oil in a sauce pan and fry the onion and garlic for one minute.
Add turmeric and cherry tomatoes, and cook until the tomatoes softens and leave their juices.
Add the tomato can, vegetable stock, apple cider vinegar and basil, bring to boil, cover with a lid and let simmer for five minutes.
Transfer into the blender and pulse to obtain a creamy liquid.
Season with salt and pepper and serve garnished with mixed seeds and nuts.