Healthy Dinner Ideas
Quinoa Crust Pizza with Greens (Yum!)
Being on a detox diet doesn't mean you have to eliminate all of your favorite foods. This quinoa crusted pizza is a great example of how a heavy, popular dish can turn into a light, nourishing meal that helps your detox. Quinoa is a great addition to your diet, as it contains all of the amino acids necessary for building proteins, it's gluten-free and loaded with anti-inflammatory and antioxidant compounds. Skip the classic mozzarella cheese and create a light, airy quinoa pizza, topped with fresh tomato sauce and greens that deliver nutrients to cells and help your liver detox.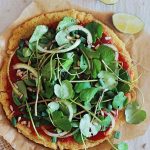 Quinoa Crusted Pizza with Greens
Scale
For the crust:

1/2 cup

quinoa
Purified water for soaking and blending

1

small garlic clove
A pinch sea salt
For the topping:

1

big ripe tomato

1

garlic clove

1/2

small onion

1/2 tsp

dried basil
Freshly ground black pepper
Mixed greens (watercress, spinach, rocket or any available)
Place quinoa in a bowl, cover with water and let soak overnight.
Preheat the oven to 232°C/450°F.
Drain quinoa well and add it into a food processor, together with the garlic clove, 2-3 spoons of water and salt.
Process until you obtain a pourable puree. Add more water if needed.
Line a baking sheet with parchment paper, pour the quinoa batter in the middle and spread to form a round.
Bake for 20 minutes, then flip upside down and bake 10 more minutes.
Meanwhile, prepare the tomato sauce – cut the tomato in half, remove the seeds and place into the food processor together with the onion, garlic, salt and basil.
Process to obtain a smooth puree, then transfer it into a sauce pan, bring to boil and simmer for 5 minutes.
Remove the pizza crust from the oven, add the tomato sauce, top with fresh greens, season with freshly ground black pepper and serve.