Healthy Dinner Ideas
Sweet Potato Sandwich with Vegan Tzatziki Sauce
Sweet potatoes are my latest obsession! I am totally in love with its taste, and I use it in almost everything –from smoothies and juices, to salads and curries. I especially like it roasted with coconut oil, which reveals its rich, creamy texture and sweet taste. Today I wanted to make a quick but nourishing sandwich to go, but I didn't have too many ingredients in my fridge.
You might not think these would fit into a sandwich, but the roasted sweet potato rounds I made for a salad the evening before were the only thing I had available, so I had to give it a try. And the whole wheat bread, zingy vegan tzatziki and greens made the perfect pairing!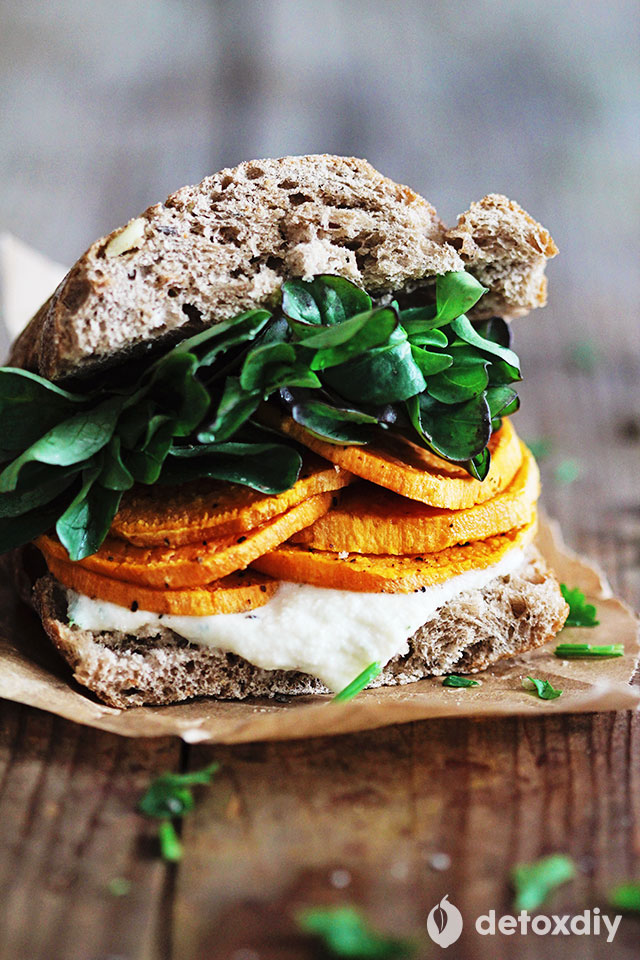 There are many things to say about the nutritional power of sweet potatoes, but I think these are the most important to have in mind when considering sweet potatoes for your detox diet: their antioxidants, potassium, and beta-Carotene content.
The bright orange color (sometimes purple) is a sign of the beta-Carotene it contains. Sweet potatoes not only contain high amounts of beta-Carotene, but also antocyanin antioxidants. These lower the potential health risk from heavy metal accumulation (like mercury, cadmium or arsenic) and are a great help against the process of oxidation from free radicals.
Potassium is a key mineral when it comes to the natural detox function of our bodies. Found in high quantities in sweet potatoes, potassium helps the body's cells to keep sodium levels where they should be, an important factor to consider when detoxing the body.
The best way to cook sweet potatoes is to steam or roast them. Simmering causes the loss of potassium into the boiling water, and it's not a recommended cooking method unless you're making a soup. Roasting is my favorite cooking method because I love the sweet taste and moist texture of sweet potatoes cooked this way. I simply add a little bit of coconut oil, some salt, and freshly ground black pepper and roast them for 15-20 minutes in the oven.
This sandwich called for a sauce, and there's nothing easier than making vegan tzatziki. I always have soaked seeds in my kitchen because I use them for preparing vegan milks and for snacking. This vegan tzatziki is made out of soaked seeds, lemon, cucumber and parsley and it's simply delicious. You can use it for assembling veggie sandwiches and burgers, or as salad dressing. Its fresh, has a zing to it, and comes with a creamy texture!
Print
Sweet Potato Sandwich with Vegan Tzatziki Sauce
Author:
Yield:

1

1

x
Category:

Vegan
Scale
½

sweet potato, peeled and cut in thin rounds

1 tsp

coconut oil

¼ cup

sunflower seeds, soaked overnight

¼ cup

almond flakes, soaked overnight

1

lime, juice only

¼ cup

pure water

½ tsp

sea salt

1

small cucumber, cut in cubes

5

–

6

parsley leaves
Freshly ground black pepper
Fresh greens, whole wheat toast, to assemble
Preheat the oven at 180°C/356°F.
Line a baking sheet with parchment paper and place the sweet potato rounds on the baking sheet.
Add coconut oil, a pinch of sea salt and freshly ground black pepper and toss to combine.
Roast for 15 minutes until tender.
Remove from the oven and set aside to cool.
Drain the sunflower seeds and almonds, place them in the food processor together with the lime juice, cucumber, water, sea salt, parsley leaves and black pepper, and pulse to obtain a smooth cream.
Spread the tzatziki sauce on a whole wheat toast slice, add roasted sweet potato rounds and fresh greens and top with another toast slice.
Serve right away or pack to go.