Healthy Salads
Skinny Salad With Zucchini Noodles, Kale, and Strawberries
If you love pasta salad, you'll go crazy for this skinny version made with zucchini noodles. It not only tastes delicious, but it's also filled with fiber, vitamins, and fat-burning nutrients to give your body a good cleanse and kick-start your natural detox processes.
I like to make this salad often in summertime, when fresh fruits and vegetables are in season, and I can take the maximum benefits from their amazing nutrients.
From the very first time I made zucchini noodles, I've thought they were a genius invention. I used to be a pasta addict myself—hey, it's fast, easy, and let's not lie, totally delicious! But my weight and digestive system suffered. Pasta made from refined flour is difficult to digest, and it's metabolized as sugar, which our bodies turn into fat when they've got nothing else to do with it. I used to always get stomachaches after eating pasta, so replacing it with zucchini noodles was almost a magical fix.
It's a vegetable that I can dress up like pasta!
Despite its ordinary appearance, zucchini contains lots of nutrients and minerals that help our bodies detox naturally and reduce the oxidative stress we take on thanks to damage caused by free radicals. Zucchini has lots of B Vitamins, magnesium, zinc, and Omega-3 fatty acids, which are responsible for sugar metabolism in our bodies.
Strawberries and kale are antioxidant superstars, and they contain key nutrients for detoxification. Strawberries are full of Vitamin C and polyphenols, offering anti-inflammatory and anti-cancer protection. Kale is the queen of detox, acting as the trigger for the body's process of neutralizing toxins in the liver and making them water soluble for elimination through urine. Kale also has fiber, which supports a healthy colon.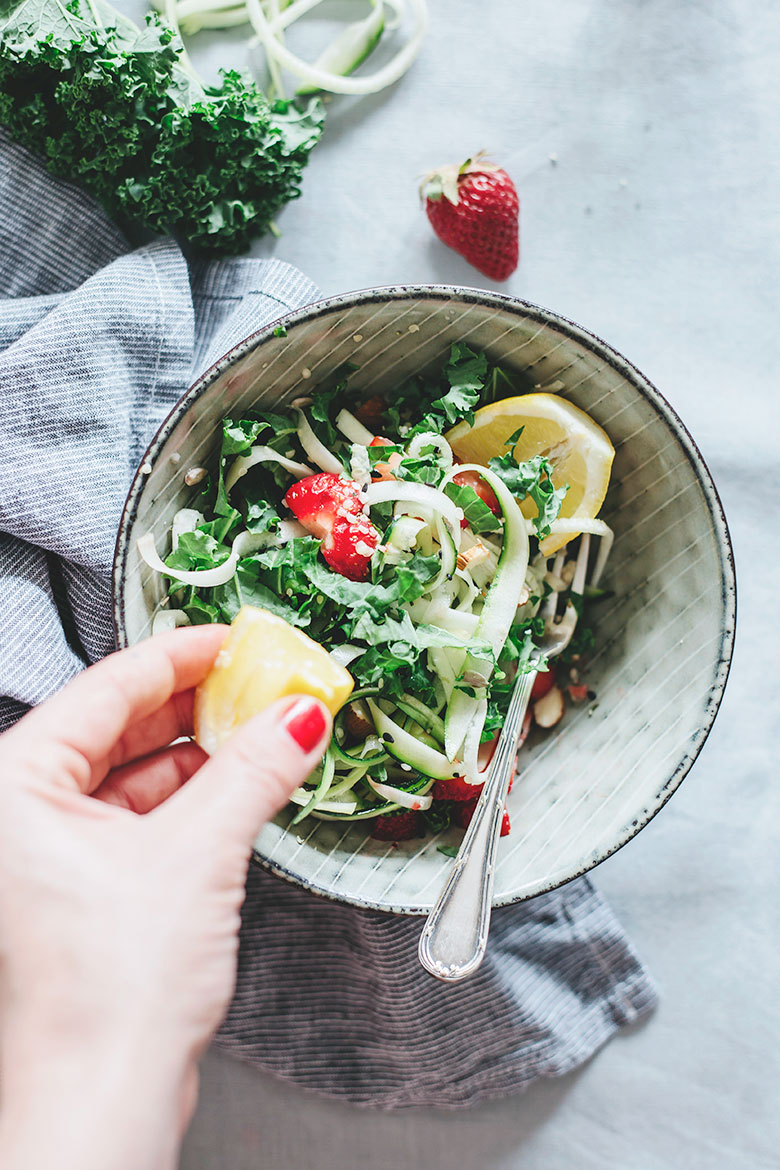 I like to serve this salad with a simple lemon dressing to avoid extra calories and highlight the flavors of its individual ingredients. I hope you enjoy it just as much as I do!
(Make this next: Crunchy Root Detox Salad)
Print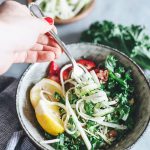 Skinny Salad With Zucchini Noodles, Kale, and Strawberries
Author:
Yield:

2

1

x
Category:

Raw
Scale
1

zucchini, spiralized or cut into thin stripes using a mandolin

2 cups

fresh kale leaves, chopped

1/2 cup

fresh strawberries, cut into slices

1/2 cup

lightly toasted almonds, crushed

1 tsp

black sesame

1

small onion, finely diced

1/2

lemon, juice only

1 tsp

extra virgin olive oil
Pinch sea salt
Freshly ground black pepper
In a large bowl, add the zucchini spirals, kale, onion, strawberries, almonds, and black sesame and toss to combine.
Add lemon juice, drizzle with olive oil, season with salt and pepper and mix to combine.
Set aside for 10 minutes to allow the flavors to combine, then serve.