Healthy Soups
Healing Turmeric Tomato Soup with Red Lentils
Soups are the ultimate comfort food, and they're especially good when you're feeling like your digestive system needs a little break. This spicy tomato, red lentil, and turmeric soup is both calming and stimulating, and it's amazingly creamy and delicious without any dairy or dairy substitutes.
On days when you're feeling run down, this comforting soup is the ultimate natural medicine. It's creamy, satisfying, and delicious, and it's loaded with ingredients that help soothe and heal an overloaded digestive system.
Made with tomatoes and red lentils, this soup is my favorite easy dinner when I feel like my digestive system needs a little break, but I still want to nurture it with nutrients for an active lifestyle. I love to use fresh, ripe tomatoes when they're in season because the smell of them is fantastic, but any tomatoes will do. They're a great source of antioxidants, especially flavonoids and carotenoids, and they're full of lycopene.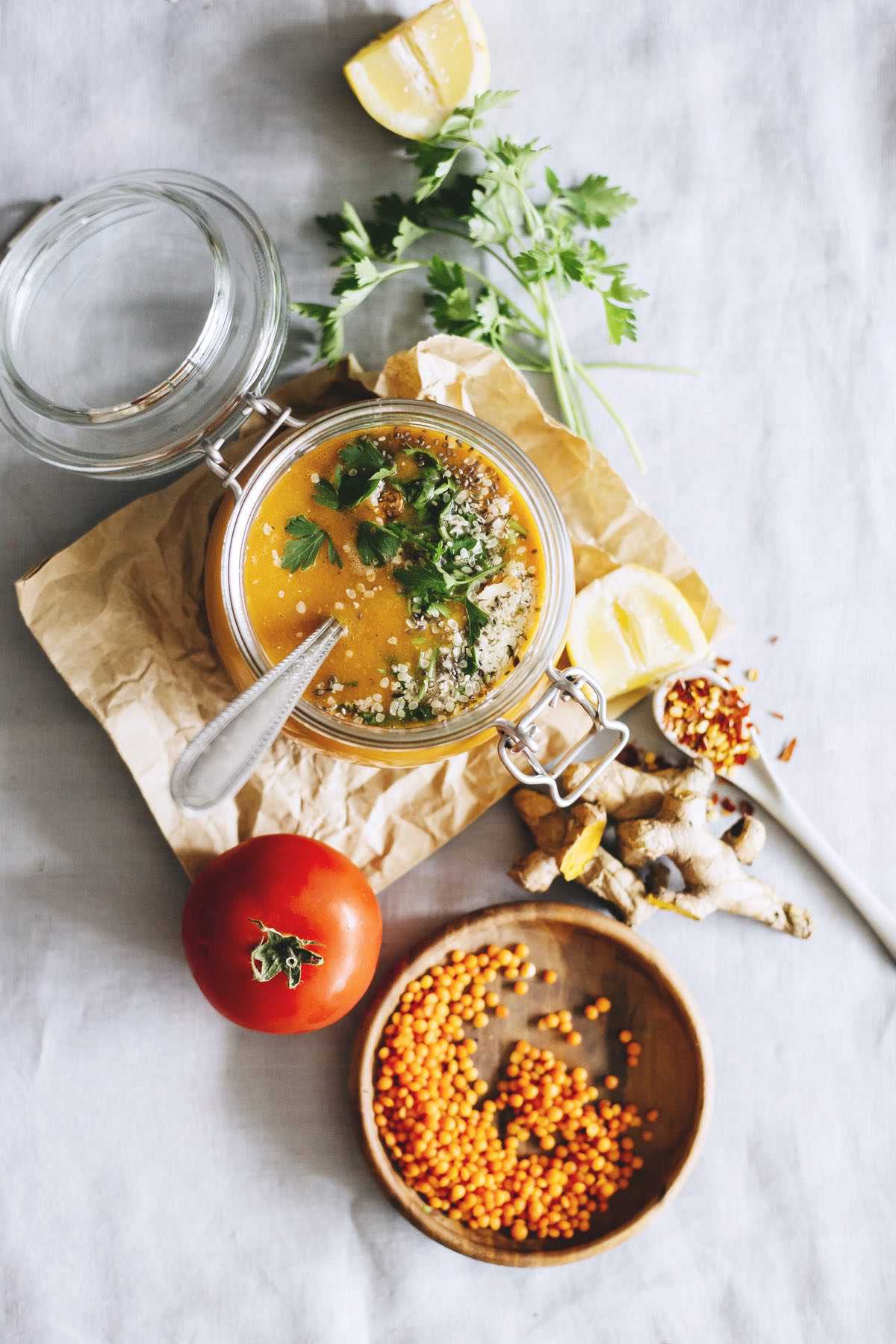 Cooking the tomatoes helps facilitate better absorption of lycopene, and when you combine it with a healthy fat source like olive oil or avocado, you're golden. Tomatoes are also a good source of minerals like potassium, manganese, and copper, which all play an important role in supporting your body's natural detoxification pathways and healthy cell function.
While a simple tomato and turmeric soup is already one of my favorite detox recipes, adding red lentils makes it creamier and increases the nutritional value. Lentils are an exceptional source of minerals just like tomatoes, and they contain lots of fiber to reduce the food's transit time through your digestive tract and feed healthy bacteria in your colon. In response, these bacterial colonies produce butyric acid, which maintains the health of the cells in the walls of your colon, helping to prevent cancer and chronic disease. Teamwork!
Turmeric is renown in Ayurvedic medicine for its strong anti-inflammatory, antioxidant, and anti-cancer properties. I like to add it to just about anything I'm eating: smoothies, juices, curries, stews, soups, you name it! It has a warming, slightly bitter and peppery flavor that I love.
Adding a pinch of freshly ground black pepper helps your body absorb the benefits of turmeric. The flavors of this soup are fabulous, and I know you'll enjoy it just as much as I do!
(You may also like: Turmeric Tomato Detox Soup)
Healing Turmeric Tomato Soup with Red Lentils
Scale
3

medium tomatoes, ripe, diced

1/2 cup

red lentils

3 cups

purified water

1

small onion, finely diced

1

small root turmeric, grated (or

1 tsp

powdered turmeric)

1/2 tsp

red chili flakes

2

garlic cloves, crushed

1/2

lemon, juice only

1 tbsp

hemp hearts

Freshly ground black pepper

1 tsp

extra virgin olive oil

Pinch sea salt

Fresh parsley leaves, hemp hearts, to garnish
Sautee the onions in water for three minutes over low heat, until they become translucent.

Add the garlic, chili flakes and turmeric, and cook for one more minute.

Add the diced tomatoes, lentils and water and mix to combine.

Turn the heat to medium and bring to boil, then reduce the heat and simmer for 15 minutes, until the lentils are tender.

Transfer the mixture into the blender, add olive oil, salt, pepper, lemon and hemp and process to obtain a creamy liquid.

Serve warm, garnished with parsley leaves and hemp hearts.