Healthy Soups
Easy Quinoa and Lentil Curry (High in Vegetarian Protein)
Intense flavored curried are my favorite dishes for a warming dinner. There are three things that I really love about curries 1. They're so easy to make; 2. I can pretty much add any available legume or vegetable, and the taste will be amazing anyway; 3. Curries are comfort food at its best! When I have no inspiration, I open my pantry, I grab a can of lentils, beans or quinoa, another can of tomatoes, one onion and garlic, I open my fridge and take whichever vegetable I find available, be it cauliflower, carrots, fennel or peas, combine everything with my favorite spices and dinner is ready!
I like to eat curries for dinner even when I'm on a detox diet, because along with cream soups they provide my body warmth and lots of nutrients to sustain the liver detox activity. All those vegetables, legumes, spices, bathed in rich tomato sauce won't to anything other than nourish your body and energize the digestive system.
Because I'm on a strict vegetarian diet, I have to find alternative sources of quality proteins. While animal products contain all the amino acids necessary for building the protein blocks, the vegetarian protein sources rarely contain all of these, and this is why it's better to have variation in diet, to rest assured that your body receives all the amino acids it needs. However, even in the vegetarian world there are protein sources that contains all the essential amino acids, like spirulin, bee pollen or quinoa. While the first two are my favorite superfoods to play with when making smoothies, quinoa is my main base for curries and stews. And if I combine it with lentils, than I'm definitely sure I have my load of proteins for the day.
It's not only the protein concentration in quinoa that makes it so popular. These seeds are also loaded with antioxidants, anti-inflammatory phytonutrients and also monounsaturated fats and essential fatty acids, with protective role for the circulatory system. Quinoa also contains high amounts of minerals, especially magnesium, manganese and zinc, and also fiber to sustain the digestive system.
When I make my curries, I don't use quinoa as a side dish, but include it instead the whole combination to give more texture and enrich the dish with more nutrients. I love the texture of the small seeds, especially combined with the meat-like texture of lentils. I declare myself a huge fan of quinoa curries!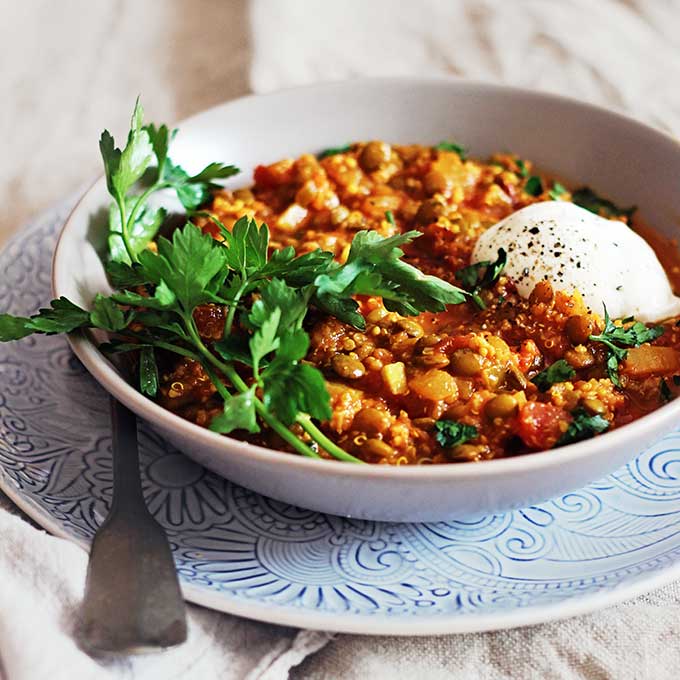 Easy Quinoa and Lentil Curry
Author:
Yield:

2

1

x
Cuisine:

Vegan
Scale
1 cup

cooked quinoa

1 cup

cooked lentils (green or black)

1

small onion, finely diced

2

carrots, peeled and cut in small cubes

3

garlic cloves, crushed

½ cup

lite coconut milk

1

can tomato in juice

½

lemon, juice only

1 tsp

turmeric

1 tsp

green curry paste

½ tsp

red chili flakes

1 tsp

sea salt

1 tsp

coconut oil

1

small bunch fresh parsley, finely chopped
Vegan yogurt, to serve
Heat the coconut oil in a large pan and add onions, garlic and carrot. Cook for 5 minutes over low heat, stirring continuously.
Add turmeric, green curry paste and chili, and mix to combine.
Add quinoa, lentils, coconut milk and tomatoes, bring to boil and let simmer over low heat for 5-7 minutes.
Add lemon, season with salt and serve warm, garnished with fresh parsley and a dollop of of vegan yogurt.