Healthy Soups
Pumpkin Soup with Turmeric
This pumpkin soup is wholesome, creamy, and has an incredible flavor. It's the perfect remedy for the cold weather blues, like when you haven't seen the sun in like a week or can't seem to shake a cold. This soup will be your comforting medicine! I am not a huge fan of adding the sweetness of pumpkin to soups, but with the right ingredients, you can turn an unusual taste into a delight. Sweetness requires skillful knowledge of flavors, and you can never go wrong when you use turmeric! Even if you do not like pumpkin in other recipes, give this soup a try. Its taste will delight you!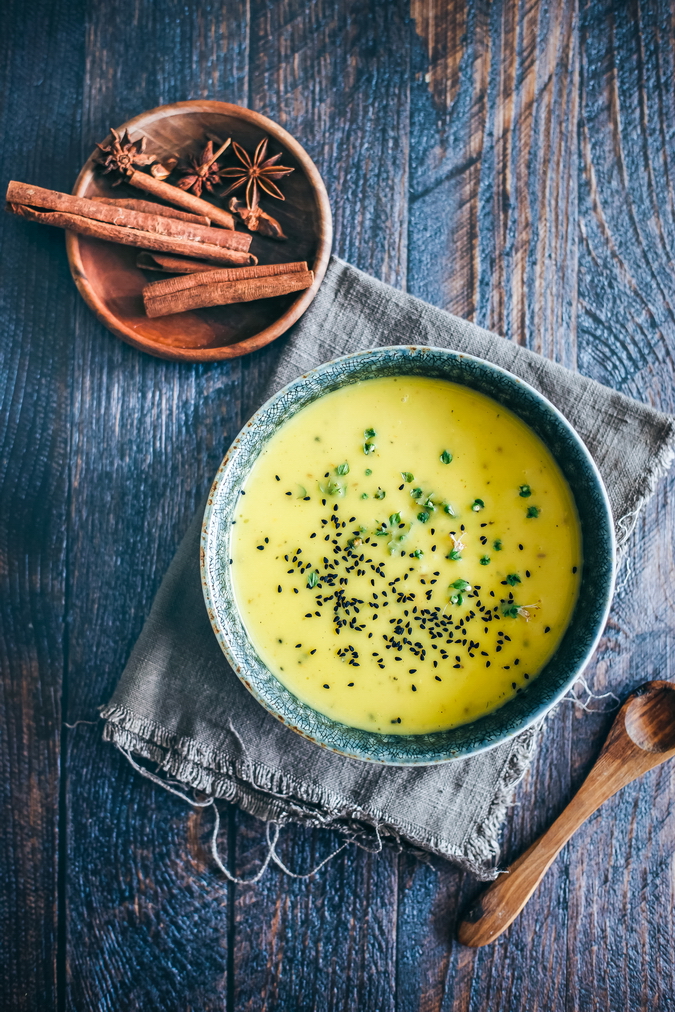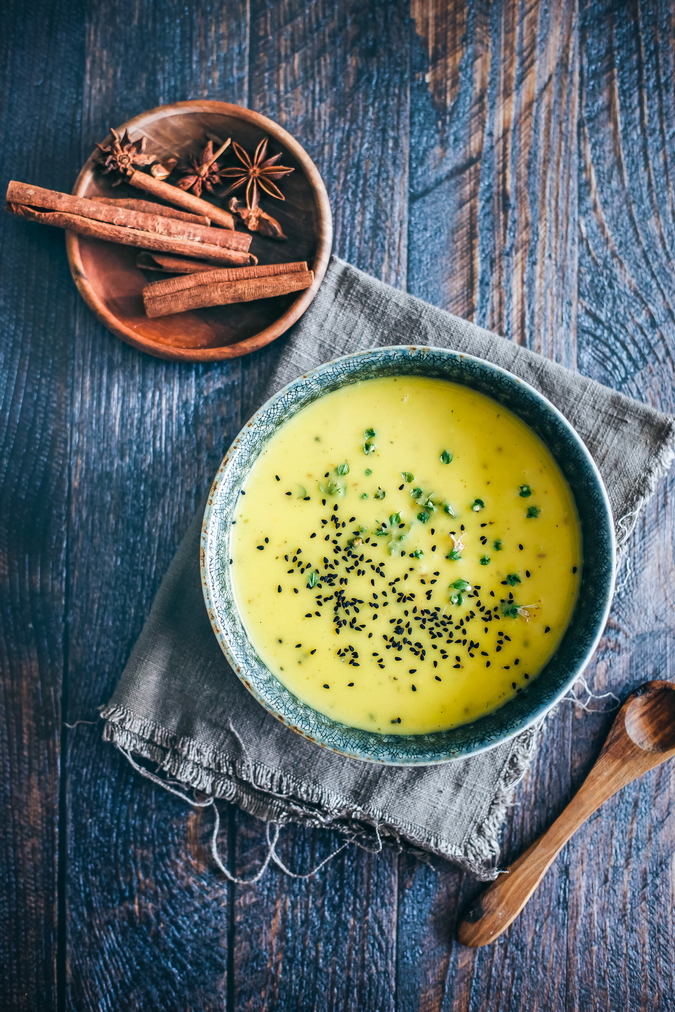 Pumpkin is not only the orange superstar of autumn celebrations but also an exceptional nourishing food. Nature gives us the right ingredients at the right time. The best way to get the most from food is to eat what's in-season when its nutrients are peaked. While summer's explosion of colors invited us to receive the benefit from all its energizing ingredients, autumn is packed with alluring tones of orange and purple. It's the last fresh batch of antioxidants of the year, which will keep our body going strong through winter. Pumpkin, sea buckthorn, squash, and carrots are all loaded with beta-carotene that protects our skin and body's cells from the stress of the cold season.
Most people concentrate on pumpkin's high beta-carotene properties, but it's much more complex than that. Every variety of pumpkin is packed with vitamins B needed to maintain a balanced blood sugar level, manganese, and potassium with significant roles in the body's natural detoxification processes, fiber to maintain colon health, and omega-3 fatty acids with anti-inflammatory properties. Eating pumpkin has been shown to reduce blood pressure, prevent cancer (especially prostate cancer), support eye health and fertility, and boost the immune system.
One cup of pumpkin contains 1.76 grams of protein, 2.7 grams of fiber, no cholesterol, well over 100 percent of the recommended daily value of vitamin A, 20 percent of the daily value for vitamin C, and 10 percent or more for potassium, copper, magnesium, vitamin E and riboflavin. Pumpkin is also a great source of thiamin, vitamin B6, pantothenic acid, iron, folate, iron, magnesium, phosphorus, and niacin. It's low in calories and high in nutrients for the perfect food to add your diet when trying to lose weight. Pumpkin's high antioxidant content helps naturally get rid of toxins in the body, which tend to accumulate and cause weight gain, an impaired immune system, sleep disturbances, bad breath, headaches, and eventually chronic diseases.
This is why for me pumpkin is not just a Halloween decoration. It's actually a vegetable I like to stuff my pantry with during fall. I add it to tarts, curries, smoothies or soups to enrich the nutritional profile and turn every dish into medicine. To make this pumpkin soup I used traditional spices such as cinnamon and anise, but also turmeric for its anti-inflammatory properties, coconut milk for an increased absorption of beta-carotene, and lemon for a dash of vitamin C and balanced taste. It's a warming soup loaded with beta-carotene and anti-inflammatory effects, which is the perfect choice for a chilled fall evening or as part of a healthy lunch.
(Make this next: Turmeric Tomato Detox Soup)
Print
Pumpkin Soup with Turmeric
Scale
1

medium butternut squash, peeled and cut into cubes

1 tsp

coconut oil

1 cup

coconut milk

4 cups

low sodium vegetable stock

3

garlic cloves, crushed

1

onion, finely diced

1/2 tsp

red chili flakes

1/2 tsp

ground cinnamon

1

anise star

1

inch ginger knob, peeled and grated

1

lemon, juice only

2 tsp

turmeric powder
To garnish: black cumin, fresh aromatic herbs, chopped (basil or sage)
In a large soup pot heat the coconut oil, add the onion and garlic and cook for five minutes, stirring frequently.
Add the pumpkin cubes, red chili flakes, turmeric, cinnamon and anise and cook for another five minutes, stirring frequently.
Add the vegetable stock and coconut milk, bring to boil then simmer for 15 minutes.
Transfer to the blender and pulse to obtain a creamy liquid.
Add the lemon juice and pulse to incorporate.
Pour into serving bowls, garnish with black cumin and herbs, and serve warm.