Healthy Dinner Ideas
Nutrient Packed Rainbow Wrap
Go ahead and try to stay in a bad mood when eating this cheerful wrap. You won't be able to do it! It's full of amazing colors and antioxidants to brighten up your day. Wraps are my favorite way to enjoy a healthy lunch on the go. You can hide anything you want inside. It's like having your very own secret weapon of delicious food ingredients. I like to see colors on my plate, and this is why I choose rainbow wraps to ensure I pack as many nutrients as possible and feed my body with everything it needs for getting through the rest of the day in a good mood.
There's not a standard recipe for making a delicious rainbow wrap, but here are some ground rules to follow. You will need to know the type of ingredients to use, which wraps are best and how to layer them. The rest is up to you! Get creative and try out a bunch of different combinations to keep things fresh. I keep my wraps simple and make sure they contain fresh, colorful ingredients to nourish my body's cells and make my taste buds happy.
Here are the fundamental rules for creating the best rainbow wrap:
1. Choose your wrap
If you aren't allergic to gluten, go for a preservative-free whole wheat tortilla wrap. It will add healthy fiber and protein to your lunch. Take it one step further and look for a sprouted wheat wrap, which is easy on digestion and provides more alkaline minerals than any other sprouts or green vegetable. Sprouted wheat contains more than 100 different nutrients, including almost all the trace elements and minerals, and the entire group of B vitamins. If you are sensitive to gluten, look for a gluten-free wrap. If you are sensitive to grains, look for wraps made with coconut or almond flour. If all else fails, try a lettuce wrap!
2. Use ingredients with different textures
To avoid boring or mushy wraps, you need to have a little diversity. Fresh, crunchy veggies such as carrot or beetroot noodles, cucumber, and red cabbage are a must. Then you'll want a healthy source of fat such as avocado to help absorb all the fat-soluble vitamins in the vegetables. Juicy vegetables like tomatoes are an excellent complement to the avocado. Add some greens for color and a healthy boost of antioxidants. And lastly, top with a delicious sauce like yogurt, ginger lemon tahini or pesto, along with a bit of protein such as hummus or a seed or bean paste to rebuild and repair tissues.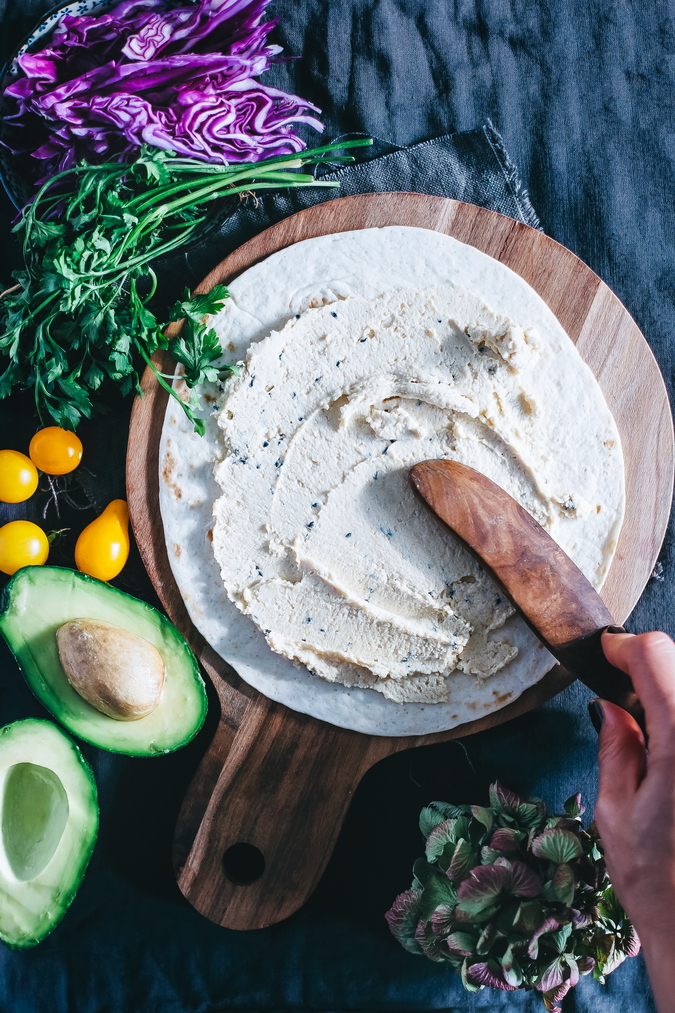 3. Maintain the same layering order
Layering a wrap incorrectly can be the difference between eating your lunch and having it end up in your lap. First, spread the hummus on your wrap. Then add the crunchy vegetables. Top with tomatoes, greens, and avocado. Lastly, drizzle with the sauce and roll it up into a wrap!
Of course, you can add everything you want when it comes to healthy toppings. Here are some suggestions:
Vegetables: tomatoes, zucchini, cucumber, cabbage, red or yellow bell pepper, avocado, onion and garlic (only when you are not at work)
Greens: massaged kale, chopped parsley, watercress, baby spinach, beetroot greens, chard
Dips: guacamole, hummus, bean dips, salsa, seed paste (especially sunflower or pumpkin seeds)
Proteins: tofu, eggs, black-eyed beans, red beans, roasted chickpeas
Healthy Sauces: herbed yogurt, vegan mayonnaise, ginger lemon tahini, or sweet and sour sauce
Extras: (to enrich the nutritional value of your lunch and improve digestion) – kimchi, sauerkraut, pickles
(Make this next: Raw Rainbow Noodles with Thai Sauce)
Nutrient Packed Rainbow Wrap
Scale
2 tbsp

hummus

1 cup

red cabbage, diced
One avocado, peeled and cut into slices

1 cup

yellow cherry tomatoes, halved
One bunch parsley, roughly chopped
One small onion, finely
Two whole wheat tortilla wraps
Salt and freshly ground black pepper
For the sauce:

1/2

inch ginger knob, peeled and grated

1 tbsp

tahini sauce

1/2

lemon, juice only
One garlic clove
Add the sauce ingredients in the blender and pulse to obtain a creamy liquid.
Spread 1 tbsp hummus over the first tortilla sheet, top with diced cabbage, avocado slices, parsley, and tomatoes.
Drizzle with tahini sauce, and wrap it up.
Continue the same with the second tortilla.
Pack to go or serve immediately.