Healthy Drinks
26 Metabolism Boosting Drinks for Weight Loss
An important part of maintaining a healthy weight, along with exercise, keeping stress levels under control, and all-over healthy eating, is stimulating your metabolism. A sluggish metabolism isn't great at processing nutrients and meal components. These juices and smoothies contain ingredients like matcha, citrus, and ginger, which are excellent for supporting healthy metabolism function and promoting a healthy body weight. They also happen to be super tasty with fruits and vegetables, and power ingredients like chia and maca powder.
1. Metabolism Boosting Teas
I love teas as a great replacement for coffee, and since these genmaicha and matcha teas have a bit of caffeine in them, they can be a way to boost your morning energy with antioxidants and slow-releasing caffeine. And they're also excellent metabolism boosters for healthy weight!

Photo: Two Purple Figs
2. Hemp Matcha Kale Power Boosting Smoothie
Boost both your energy and your metabolism with this smoothie, using hemp seeds, chia seeds, matcha powder, avocado, banana, oranges, kale, mango, kiwi, pineapple, and pomegranate arils. You won't believe how much goodness is packed into this little smoothie!
3. Metabolism Boosting Smoothie
With strong brewed green tea, Greek yogurt, quick oats, banana, and mixed berries, this smoothie is a wonderful breakfast that will boost your metabolism (thanks, green tea!) and keep you full until lunch (thanks, quick oats!) while treating your gut and your taste buds with probiotic-rich yogurt and sweet berries.
4. Healing Morning Tonic
This cleansing and refreshing morning drink is great for the body and the soul, and it tastes lovely with citrus like grapefruit, lemon, limes, and oranges as well as fresh ingredients like fresh grated ginger, lemongrass, mint leaves, tonic water, and honey if you need it sweetened.
5. Belly Buster Green Juice
This juice is gorgeously yellow-green with apples, cucumber, lemon, lime, mandarins, and romaine lettuce. The citrus juices are great for stimulating a healthy metabolism, while the veggies and fruits adds flavors and nutrients you can get excited about.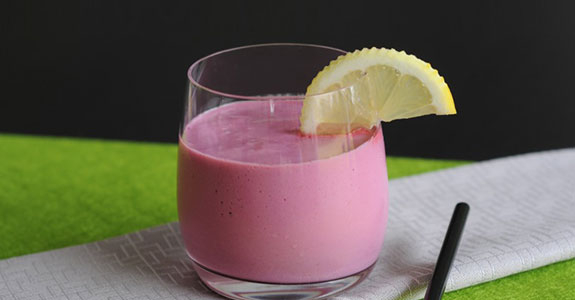 Photo: Taste Narin
6. Power Raspberry, Ginger, and Lemon Smoothie
Cleanse your body with this delicious creamy smoothie made with frozen raspberries, ginger, lemon juice and zest, milk of choice (I'd choose almond), and a high protein flour of your choice, such as coconut flour, almond flour, or other nut or seed flours.
7. Detoxifying Lemon Tea
This lemon tea is a version of a common and popular detox tea made from fresh lemon juice, pure maple syrup, and cayenne pepper. This one also has fresh mint and optional cinnamon, turmeric, apple cider vinegar, and fresh ginger. It's sure to get your metabolism going!
8. Metabolism Boosting Blueberry Coconut Lime Smoothie
With lime juice and Greek yogurt, this smoothie is both cleansing and nourishing. I love the combination of tropical flavors like coconut, lime, and banana with temperature flavors like blueberry. This smoothie is super tasty and it's a lovely purple color to boot!
9. Coconut Matcha Latte
Homemade matcha lattes are one of my very favorite hot drinks, and they're so easy to make. Matcha tea is also excellent for helping to support a healthy metabolism! The vegan marshmallows are optional, but they really make this drink into a decadent but still-healthy treat.

Photo: Feasting at Home
10. Ayurvedic Detox Drink
This detox tea is based on traditional Ayurvedic medicine, and it's perfect for cleansing and calming your body. You'll need sliced ginger, fresh turmeric, coriander seeds, cumin seeds, fennel seeds, and a tea of choice: green tea, mint, ginger, or yerba.
11. Coconut Vanilla Almond Smoothie
I love fruit and veggie smoothies, but sometimes its nice to just enjoy a creamy vanilla flavor reminiscent of a milkshake. This metabolism-boosting smoothie is made with coconut milk, chia seeds, sunflower seeds, maca powder, vanilla extract, honey, and raw or roasted almonds.
12. Metabolism Boosting Berry Smoothie
Made with matcha powder and cinnamon, this super healthy smoothie promotes healthy weight loss with awesome flavors and ingredients like mixed berries, almond milk, almond butter, avocado, and psyllium husks with several optional add-ins.
13. Jet Fuel for a Sleepy Metabolism
This smoothie is sure to wake up your sleepy metabolism with green tea, coconut milk, frozen pineapple, banana, grapefruit, spinach, and plain whey protein or your favorite protein powder. With filling ingredients, it also doubles as a healthy breakfast.

Photo: Oh My Veggies
14. Spicy Mango Mandarin Smoothie
The cayenne pepper in this smoothie is great for your metabolism, but you can decrease the amount or leave it out altogether if you're not a fan of spicy drinks. The mango and sweet mandarin orange are an excellent complement to the spiciness!
15. Celery Pear Healthy Green Juice
I love the vibrant color of this juice, and the fact that it still tastes sweet and delicious (from the pears) with all of those veggies like celery and kale. The fresh mint helps, too, and this juice is good for stimulating your metabolism to get going in the morning.
16. Ginger Banana Breakfast Shake
Ginger is wonderful for powering up your metabolism, and this smoothie also has sweet banana and creamy rice milk (or almond milk, or dairy milk). Honey and cardamom add deliciously sweet and spiced flavors. This is a great way to start your day with something yummy.
17. Green Apple Spinach Smoothie
Green smoothies are marvelous for your metabolism because their ingredients give it a boost, but you're also getting powerful vitamins, minerals, and nutrients from the greens and sweet flavors from the fruits I love this one with Granny Smith apples, banana, fresh spinach, Greek yogurt, and a liquid of your choice.

Photo: Paleo with Mrs.P
18. Blueberry and Almond Butter Smoothie
This drink reminds me of the smoothie version (and extra healthy) of a peanut butter and jelly sandwich. It's made with fresh blueberries and almond butter along with a few dried prunes for sweetness and almond milk for creamy goodness. This is a great replacement for a starchy breakfast.
19. Mango and Mint Smoothie
This smoothie is a sweet treat for a drink with ripe mango, almond milk, cardamom, mint leaves, and optional palm sugar for extra sweetness. Using smoothies as your treat instead of starchy baked goods is always a way to support your metabolism and healthy weight!
20. Beet Detox Smoothie
I'm surprised we've gotten this far without talking about beets yet! With their iron-rich, beautiful pink color, beets are an excellent ingredient for detox juices and smoothies. They have an earthy flavor that can be balanced with fruits like strawberries, blueberries, and banana, such as in this recipe.
21. Creamy Avocado Kale Smoothie
Healthy fats like avocado are supportive of a healthy metabolism and body weight, and they also make smoothies amazingly creamy. This super creamy smoothie also uses kale, cacao nibs, Greek yogurt, vanilla almond milk, frozen mango, and honey to sweeten.

Photo: Curry Trail
22. Apple Carrot Tomato Juice
Here's a sweet and savory metabolism-boosting juice that reminds me a little of V8, but homemade from fresh ingredients without additives. You'll need apples, carrots, tomatoes, salt, ground black pepper, and water. The flavor is deliciously veggie-rich!
23. Skinny Pineapple Pear Smoothie
Combined with tropical pineapple, and sweet and spunky combination of ginger and pear is fabulously delicious and great for you're your body and your taste buds. It's also super easy to make, because besides those three ingredients, all you need is water and ice.
24. Sunshine State of Mind Juice Recipe
There's nothing like a simple citrus juice to cheer you up on a gloomy morning or during a stressful work week. Fresh citrus is also good for your metabolism, and if you want to give it an even bigger boost, you can add a knob of ginger to the juicer. Yum!
25. Detox Spa Water
There's nothing better for boosting your metabolism than switching from sugary drinks like sweetened coffee, soda, and store-bought juices to plain old water. Of course, you can make that water so much more appealing by adding infused flavors like mint, cucumber, and lemon.

Photo: Sweet and Savory by Shinee
26. Pineapple Citrus Smoothie
This smoothie is supportive of safe weight loss and a healthy metabolism. It nourishes your digestive system with pineapple, orange, grapefruit, prune juice, Greek yogurt, and chia seeds for hydrating and extra nutrients. And it's so yummy!