Healthy Salads
5 Ideas to Make Your Detox Salads More Filling and Satisfying
If you've been feeling sluggish and out of sorts, it may be a sign that you need to make some dietary changes, especially if you're following a long period of indulgence and workout avoidance.
While crash diets may work for some people, they're not an option for all of us.
So how do you change your diet, but still enjoy yourself? Well, nothing compares to a big bowl of fresh, detoxifying salad.
Believe it or not, foods with a low saturated fat content, fresh fruits, veggies, combined with an active lifestyle, can do wonders for your body. (1) So, here are a few tips and tricks on how to make your detox salads more filling and satisfying. (2)
Benefits of Eating Detox Salads
Eating greens, salads in particular, is a way to reduce your calorie intake.
Scientific research has shown that caloric restriction is highly effective in promoting weight loss while boosting metabolism. (3) Experts say the risk associated with losing a few pounds is that you also lose lean muscle mass. Protein-packed weight loss diets are popular and can help preserve muscle mass, while a standard protein, high carb diet cannot. (4)
Numerous studies have connected Mediterranean cuisine with reduced risk of cancer and Alzheimer's disease, improved cardiovascular health, and a longer life expectancy. Hopefully the following recipes will inspire you. (5)
5 Ideas to Make Your Detox Salads More Filling and Satisfying
Add Whole Grain Pasta
When people think of salads, they often think of light meals that leave them feeling hungry. This is not always the case, especially if other proteins, fats and whole-grains are added. Salads are primarily vegetable-based, but you can also add whole-grain pasta to add bulk to the meal.
Mediterranean Pasta Salad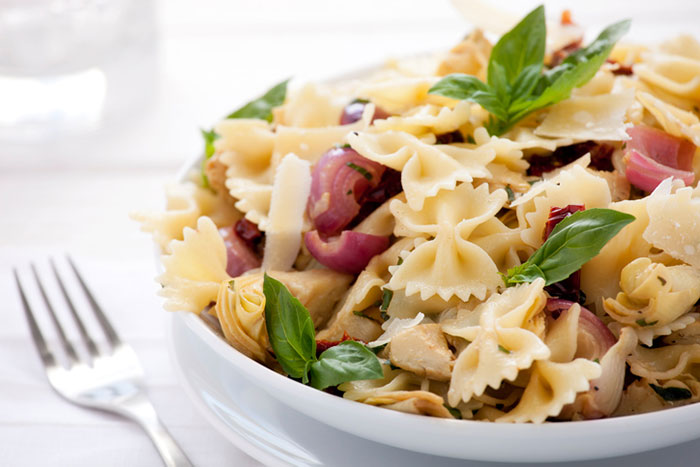 This is definitely a recipe to try. Add more pasta to make it a heavier meal. Peas and artichoke together bring to the table 8 grams of fiber, which is 1/3 of the daily recommended intake. The combination of fat and protein will delay gastric emptying, which means you'll feel fuller, longer.
Ingredients:
8 ounces of whole grain farfalle (raw)
2 teaspoons of extra virgin olive oil
13 ounces artichoke hearts (drained)
8 ounces mozzarella cheese (fresh)
1/3 cup red bell pepper (roasted)
1/2 cup peas (frozen)
1/4 cup fresh parsley (chopped)
1 lemon (juice, zest)
Salt and pepper, to taste
Directions:
Follow package instructions to cook the pasta, without adding extra salt or oil. Let pasta cook until firm.
In a large bowl combine lemon juice and zest with 2 teaspoons of extra virgin olive oil. Whisk vigorously. Add in the artichoke hearts, bell pepper, cheese and parsley. Mix all ingredients together.
Add the peas into a colander and pour pasta over them to drain. Shake well nad rinse well, and let cool. Pour pasta and peas over your artichoke mix and toss until well mixed. Serve at room temperature.
Add Lean Sources of Protein
Adding other ingredients such as hard-boiled eggs, tuna flakes, scallops, shrimp, and chicken breast are great ways to not only add texture and flavor to your dish, but it will also increase the protein content as well. Protein helps preserve muscle mass on a diet, which will help in increase your metabolism.
Tuna Salad
Who said tuna only goes well with mayonnaise? This recipe is a must-have in your weight loss diet plan.
Each serving is less than 200 calories with 2 grams of fiber. Add scallions, capers, and olives to make a fresh, mouthwatering salad perfect for lunch for light dinner.
Tuna is packed with omega-3 fatty acids, nutrients essential to heart health. (6)
Ingredients:
10 ounces of tuna in water (drained, flakes)
1/3 cup ripe polives (pitted, chopped)
2 tablespoons extra virgin olive oil
1/4 cup red pepper (roasted)
2 green onions (sliced)
1 tablespoon capers (rinsed, chopped)
6 slices multi-grain bread (toasted)
Salt and pepper, to taste
Directions:
If using fresh tuna, sear it in medium-high heat until center is slightly pink. Season with salt and pepper.
If using canned tuna: Add all ingredients into a medium-sized bowl. Toast bread and serve on the side.
Incorporate As Many Colors As Possible
Bored of the same old green salads? Spice it up with some color. Incorporate other vegetables such as beets, carrots, bell peppers, tomatoes and onions to add variety in texture and flavor. The great thing about detox salads is that there are so many combinations of vegetables you can try to change it up. Eating clean doesn't have to boring.
Rainbow Detox Salad
You've never imagined a healthier food. For as little as 200 calories, this salad is a parade of color that is packed with nutrients your body needs to function on full capacity, including vitamin K and vitamin C.
Ingredients:
1/2 cup feta cheese
8 ounces of cucumber (thinly sliced)
2 tablespoons extra virgin olive oil
2 large celery stalks (sliced)
14 ounces artichoke hearts (drained, copped)
6 cups watercress (trimmed)
1/4 cup carrots (julienned)
1 tablespoon red onion (minced)
1 tablespoon sun-dried tomatoes
1/4 cup roasted red bell peppers (chopped)
Juice of 1 lemon
Directions:
In a blender, blend the juice of 1 lemon and half the cucumber.
Pour olive oil into a thin stream and pulse to mix together. Add a dash or two of black pepper.
Transfer everything into a large bowl and add the remaining vegetables and feta cheese.
Mix well and serve.
Try Other Cuisines
Explore other cuisines and incorporate some of their native ingredients and styles. If you're tired of the same old flavor profiles, exploring different recipes is a great way to beat the monotony of basic salads.
Greek Salad
This salad brings to the table a healthy helping of 4 grams fiber, less than 300 calories, and nutrient-packed ingredients all mixed together in a flavorful dish.
Rich in sun-dried tomatoes, spinach and chickpeas, this traditional Greek salad is ideal for weight loss and detoxification.
While spinach is packed with iron and chlorophyll, helping to regulate iron blood levels and boost metabolism, chickpeas are known to lower high blood pressure, balance blood sugar levels, and support bone health due to its calcium, magnesium, vitamin K, manganese and zinc content. (9)
Ingredients:
¾ cup sundried tomatoes (drained, chopped)
15 ounces chickpeas (drained, rinsed)
1 ½ tablespoons extra virgin olive oil
8 cups spinach
2 garlic cloves (minced)
8 ounces low-fat feta cheese (crumbled)
¼ cup pitted olives
1 teaspoon dried oregano
½ teaspoon salt
½ teaspoon fresh black pepper (ground)
3 tablespoons pine nuts (toasted)
10 lemon wedges (optional)
Directions:
Put sun-dried tomatoes in a bowl and cover in boiling water. Let them sit for 30 minutes until soft, then drain and cut them into 1-inch pieces.
Warm up 1 ½ teaspoons of oil over medium-high heat. Add in spinach and garlic. Sauté for 3 minutes or until spinach is slightly wilted.
Combine the spinach, cheese, olives and spices and drizzle with extra virgin olive oil.
Toss gently. Sprinkle with nuts and serve with lemon wedges.
Add Rice to Your Dish
Rice in a salad? Sure, why not. Remember, when it comes to making a detox salad, it's up to you to find your personal preferences. Rice is a staple in Asian countries and is an excellent source of carbohydrates. This is an option for those who do not feel satiated with regular detox salads, but don't fare well with pastas.
Basmati Salad
This dish has the advantage of being served either as a side or a light meal. It combines pine nuts, basmati rice, and fresh mint for a healthy serving vitamin A.
Ingredients:
2 sun-dried tomatoes (packed without oil)
¼ cup hot water
1 ¼ cups of uncooked Basmati rice
2 cups water
½ teaspoon salt
2/3 cup (2.5oz) feta cheese (crumbled)
2 tablespoons dried currants
2 tablespoons chopped fresh mint
1 tablespoon olive oil
¼ teaspoon black pepper
2 tablespoons pine nuts (toasted)
Directions:
Put the tomatoes in a bowl and cover with water. Allow them to sit for 10 minutes, drain, chop and set aside.
Put the rice in a wide bowl and cover with water (2 inches above rice). Let it soak for 30 minutes, stirring occasionally. Drain and rinse.
Put the rice in a saucepan and pour 2 cups water, add salt and stir. Bring to a boil over medium-high heat while stirring frequently. Boil for 5 minutes or until water level drops just below the rice. Cover, lower the heat and cook for 10 minutes. Remove from heat and allow to sit for 10 minutes.
Drain the rice and transfer it into a bowl. Allow it to cool off completely and fluff with a fork. Add in feta cheese, tomatoes, and the rest of the ingredients, stir and toss to combine. Sprinkle with pine nuts.
Get Cooking!
Eating clean doesn't have to be the same old repetitive meals. Spice it up with flavors, textures, and new toppings. Don't be afraid to add whole-grains, cheeses, proteins, and dressings.