Healthy Drinks
Honey Ginger Turmeric Latte to Wake You Up Naturally
Relax and refresh yourself with this amazing honey ginger turmeric latte. A great choice when giving up coffee!


Two of my favorite superfoods are excellent for building delicious and energizing drinks is– Matcha and turmeric. While a Matcha Latte is a common coffee replacement during a detox, my latest discovery, this ginger turmeric latte, takes coffee replacement to the next level: a healing one.
How to Make the Best Turmeric Latte
I've told you before about the healing properties of my turmeric tonic and I can't stop being amazed by the health properties of turmeric. It not only contains high concentrations of manganese, an essential mineral during the natural detoxification process, but also offers antioxidant and anti-inflammatory protection to the body's cells, reducing the risk of cancer and inhibiting the growth of cancer cells. Turmeric is also a real blessing for your digestive system, reducing symptoms of IBS and calming gastritis.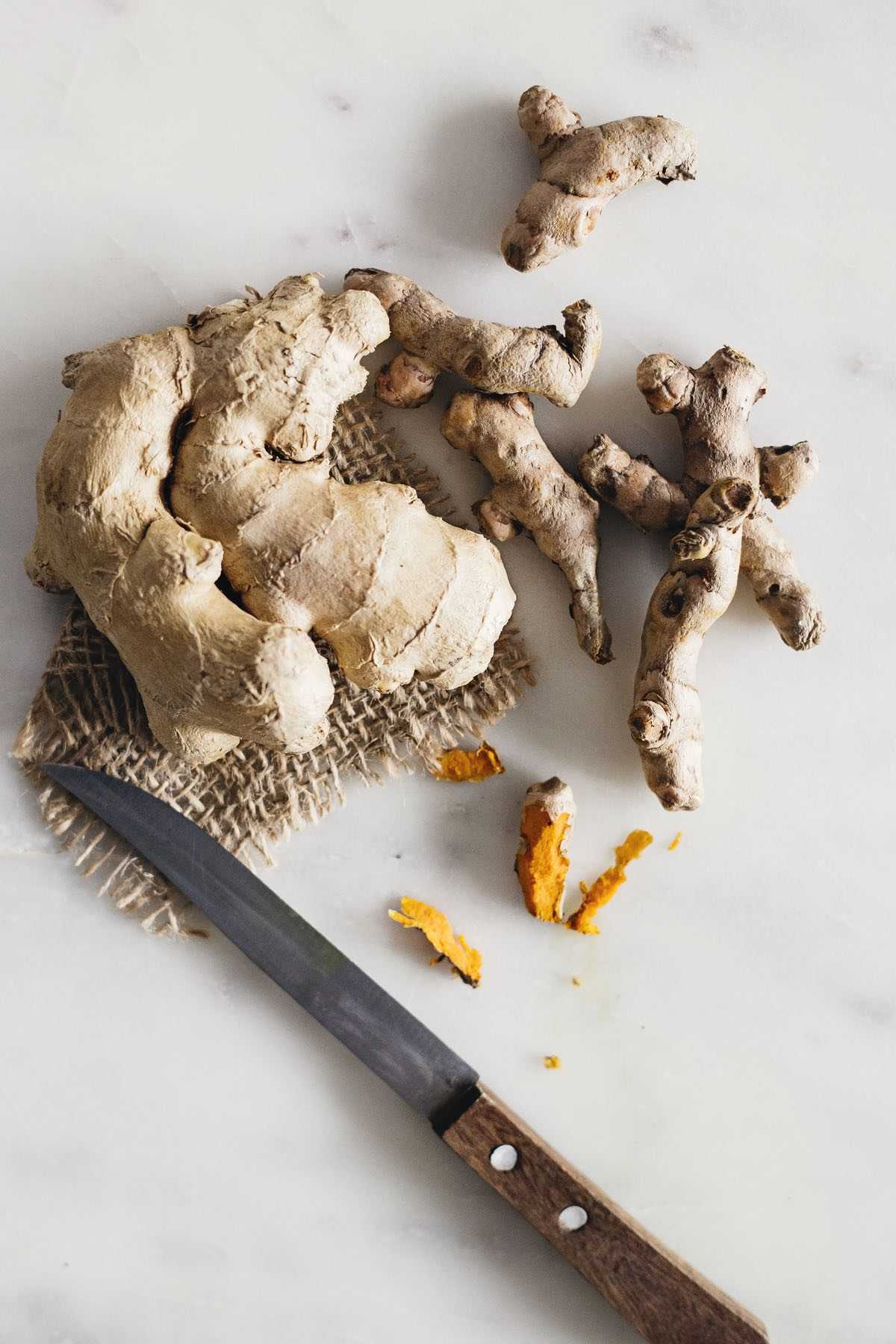 Taking turmeric within the first hour in the morning stimulates liver activity, and this is why I love this healing latte so much. Curcumin, the active substance in turmeric, helps the liver detoxify your body from chemicals (like the ones found in cosmetics and home-care products) by increasing the production of two detoxifying enzymes. These neutralize the toxins reduce the damage done by free radicals.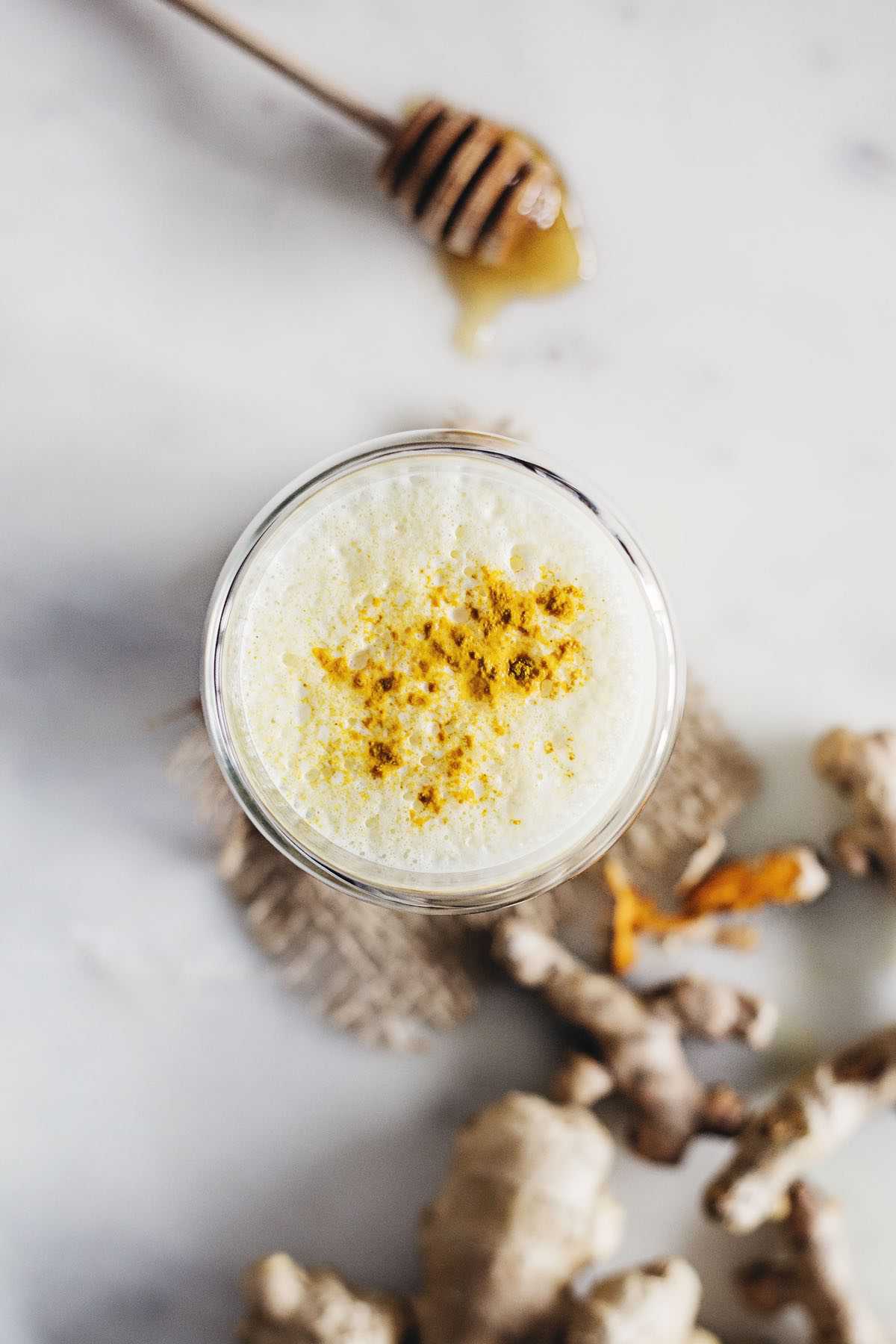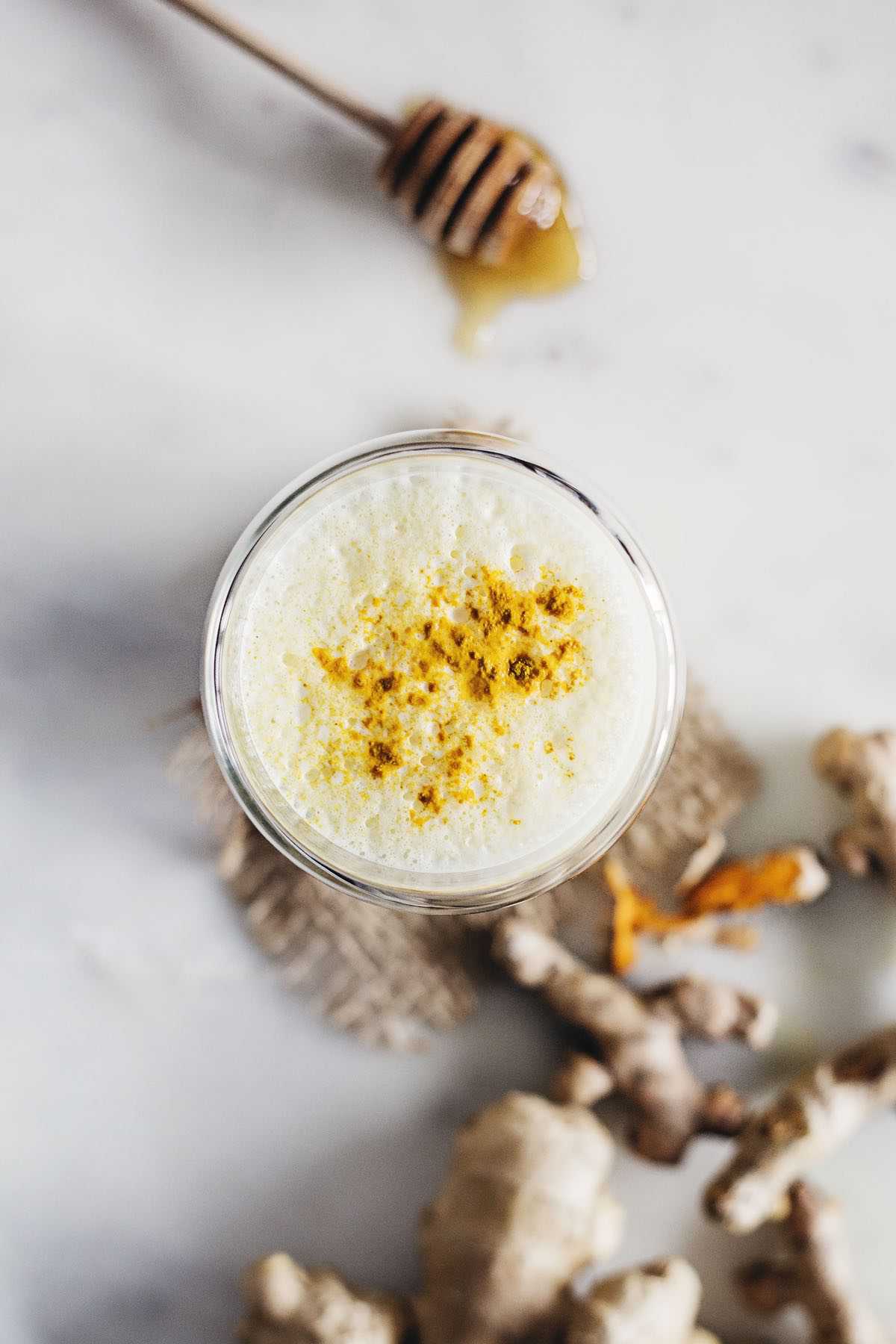 Pairing turmeric with ginger to create a delicious healthy morning drink came as a next logical step because ginger is another one of my favorite ingredients. Its spicy taste blends perfectly with the warming nature of turmeric, and its healing properties complement those of turmeric. The active substance in ginger, gingerol, has gastrointestinal relieving properties and anti-inflammatory action. It stimulates the immune system (ginger is often used to naturally treat colds and flu) and reduces the risk of cancer, especially colon and ovarian cancer.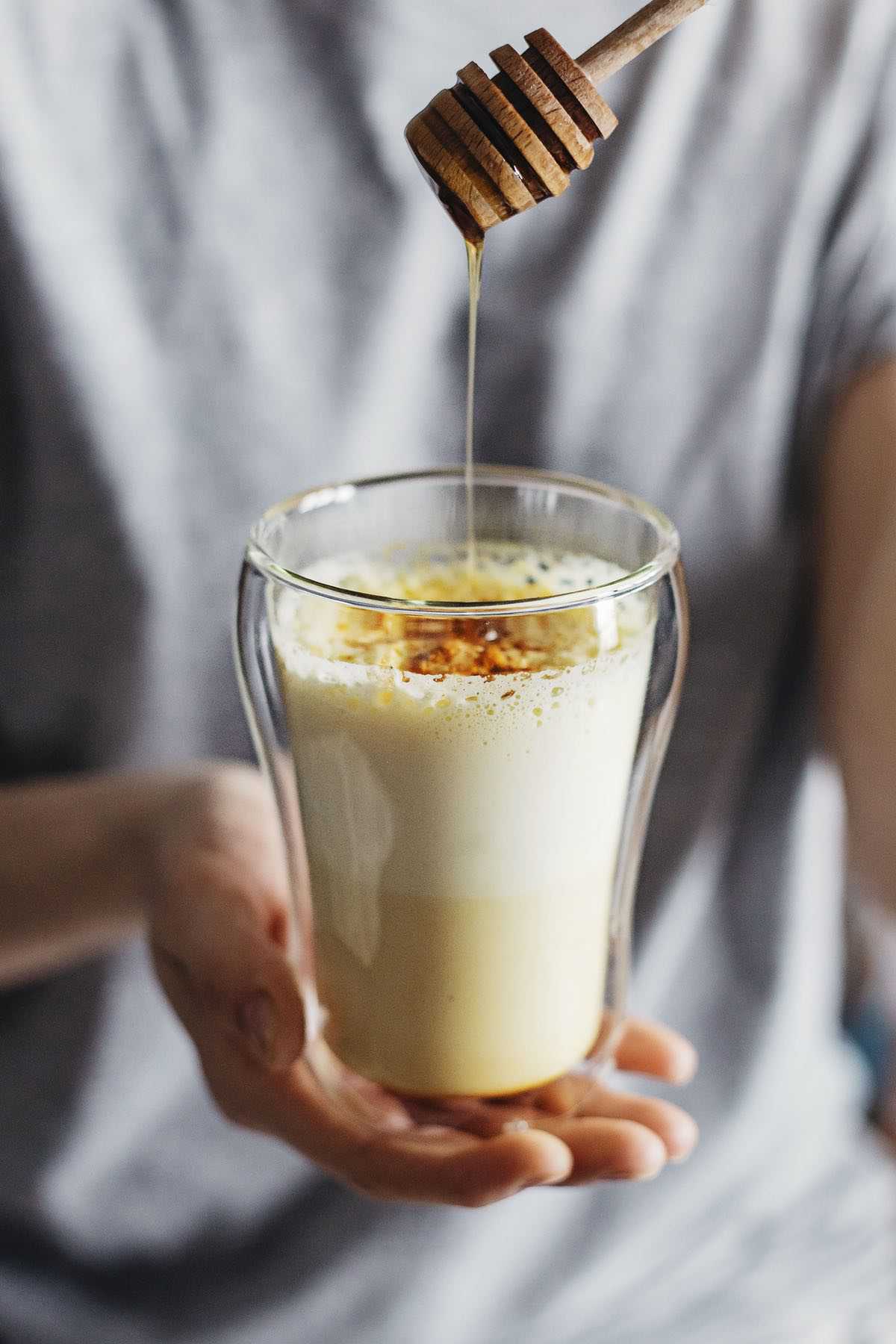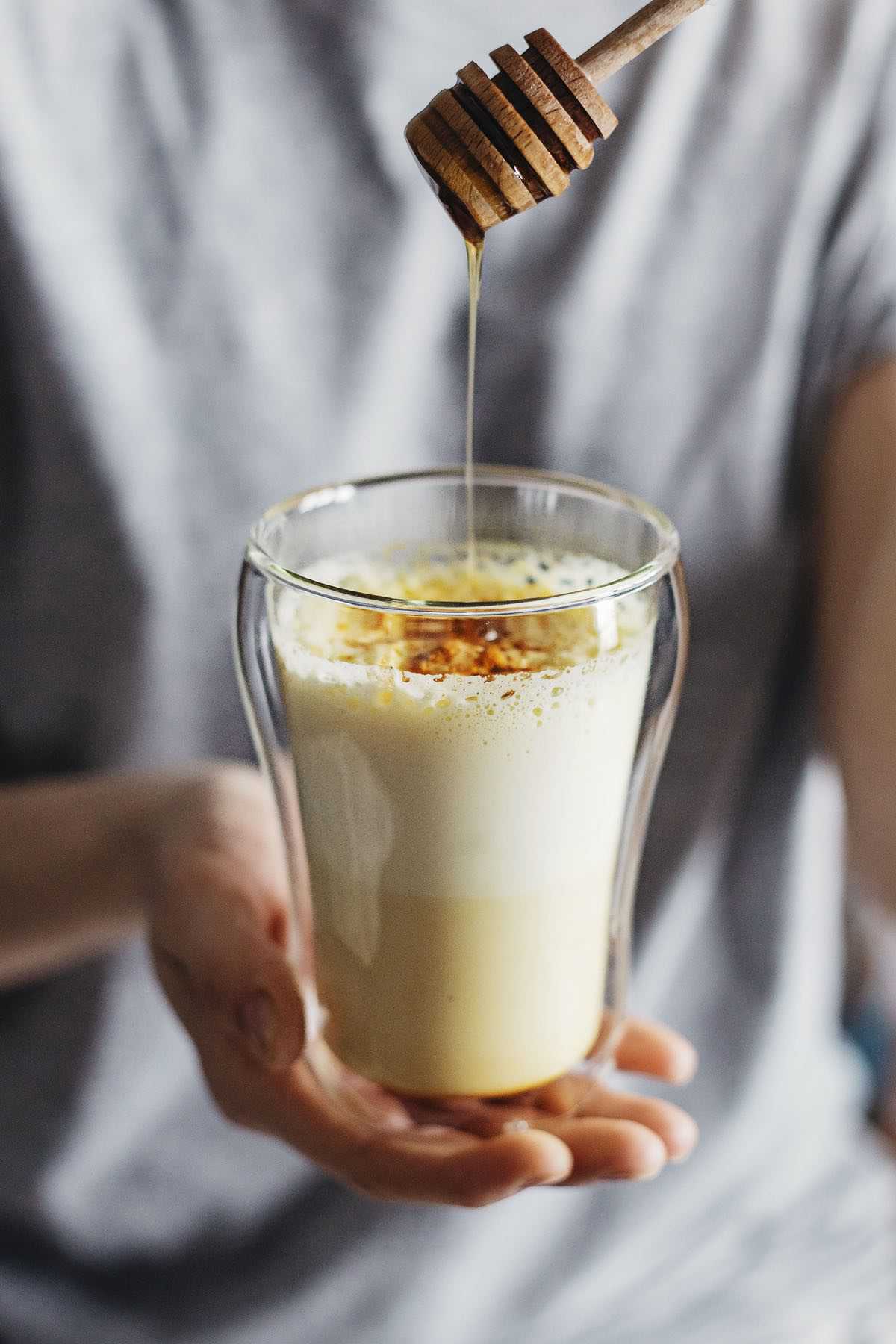 I use virgin coconut oil not only for making it creamier and giving it a velvety texture, but also for increasing the absorption of the anti-inflammatory nutrients of both ginger and turmeric. This drink has a deliciously spicy taste and warming properties, and is the perfect beverage to start the morning the natural way.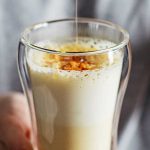 Honey Ginger Turmeric Latte
Scale
2 cups

vegan milk (I used cashew milk)

2 tsp

organic raw honey

2 tsp

turmeric powder

1 tsp

virgin coconut oil

½

inch ginger piece, peeled and grated
In a mortar add the turmeric powder, coconut oil, ginger and honey and mix with the pestle to obtain a paste.

Warm the almond milk and add it into the blender, together with the turmeric-ginger paste.

Process to obtain a foamy liquid.

Pour evenly into the mugs/glasses and serve warm.
More Energizing Morning Drinks to Fuel Your Body and Wake You Up: