Healthy Soups
Healing Red Lentils and Turmeric Soup
Cold weather is here and the comfort food cravings have hit! I can't imagine anything cozier than enjoying a delicious soup for dinner while having a Netflix and chill night in my snuggie. This gorgeous orange soup features a creamy texture, a spicy taste, and incredible digestive healing properties. It will become your new go-to favorite recipe when you're feeling a bit under the weather or when you need a meal that really makes you feel good.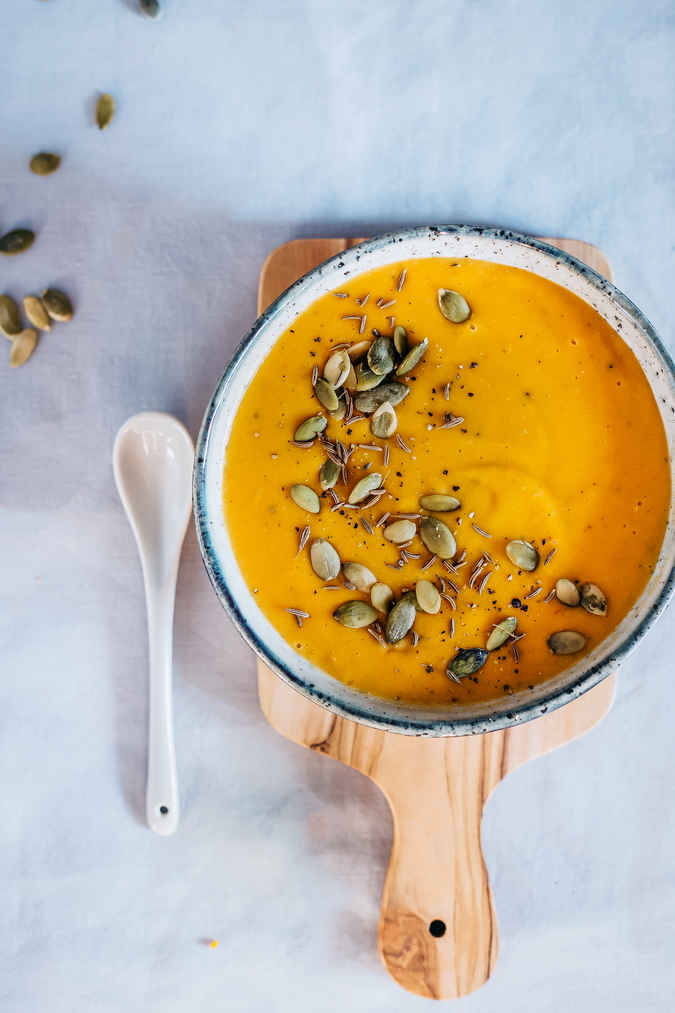 I always stock legumes in my pantry in the form of beans, chickpeas or lentils. They are my main source of protein and they turn any of the dishes I add them to into a satiating and nourishing delight. All of the lentils varieties are loaded with fiber, folate, and minerals, which provides lots of key ingredients your body needs for maintaining the healthy activity of your cells.
They are generally easy on your stomach if you're sensitive to other really starchy foods and are naturally detoxing because of their high fiber and phytonutrient content.
I love the versatility of lentils and the fact that they easily absorb the flavors of the ingredients you combine them with. I especially like to pair red lentils with ginger, garlic, turmeric and lemon to create nourishing dishes.
These ingredients not only give the lentil soup a spicy fragrance and a delicious taste, but they also create a healing combo for your digestive system. That's because they provide an excellent source of fiber, which has all sorts of amazing health benefits. One cup of legumes has seven grams of fiber!
Lentils have also been found to improve health in the following areas:
• Lower cholesterol
• Improve heart health
• Stabilize blood sugar
• Provide a good source of protein
• Weight loss
• Increase energy
Did you know that eating one serving of three-quarter cups of legumes every day could help you lose weight? A recent study found that those who ate legumes every day were not only able to lose weight but were able to keep it off. How's that for a good carb? Research also shows that replacing animal protein with legumes helps you live longer, lowers inflammatory markers, and prevents chronic disease. They can help lower cholesterol. Eating just a half of a cup of legumes each day can totally reverse vascular impairment due to peripheral artery disease. In other words, they improve heart health by cleaning out your arteries.
Ginger contains a unique nutrient called gingerol with exceptional antioxidant and anti-inflammatory properties. It also has a soothing action for your bowels, reducing flatulence and stimulating digestion. Turmeric offers your cells intensive anti-inflammatory protection, reducing congestion and maintaining an alkaline environment. It also contains essential minerals, gives a shiny orange color to your soup and a warming, peppery flavor. Turmeric is also great for lifting your spirits! It's a proven anti-depressant. Garlic contains sulfur compounds, manganese, and selenium, and has antioxidant and anti-inflammatory properties that are involved in the natural detoxification properties of our bodies.
Making this lentil soup is easy even if you are a beginner in the kitchen. You only need to add the ingredients to a blender then give them a quick mix. Make sure the lentils are fully cooked first. If you buy them in dry packages, soak them overnight, rinse and boil them for one to two hours and then they will be ready to add to the blender! You can save time by buying them canned but watch out for preservatives, food colorings, and a high sodium content. Buying them dry is also less expensive and I'm all about making good food on a budget!
(Make this next: Healing Turmeric Tonic)
Print
Healing Red Lentils and Turmeric Soup
Scale
1

and 1/2 cups red lentils

3 cups

low sodium vegetable broth

1

onion, finely diced

2

garlic cloves

2

carrots, finely diced

1

-inch ginger knob, peeled and grated

1 tsp

turmeric powder

1/2 tsp

coriander seeds

1/2 tsp

cumin powder

1/2

lemon, juice only

1 tsp

coconut oil
Pinch cayenne pepper
Toasted pumpkin seeds, to garnish
Add all the ingredients into a soup pot and bring to boil and simmer for 15 minutes until the lentils are cooked.
Transfer the mixture to the blender and pulse to obtain a creamy soup.
Pour into serving bowls, garnish with toasted seeds, and serve warm.