Superpowered Tea
30 Fat Burning Green Tea Smoothies
Green tea makes a wonderful addition to any smoothie. It may be able to boost metabolism, protect against cellular damage and cancer, and give you energy throughout the day. Because of its naturally refreshing flavor, you won't need to add much more than fresh fruit to sweeten up the taste.
1. Green Tea Watermelon Detox Smoothie
Watermelon is high in lycopene, a plant nutrient that helps protect the cardiovascular system. They are also a good source of phenolic compounds such as carotenoids, flavonoids, and triterpenoids, which have antioxidant and anti-inflammatory properties. Be sure to omit the honey in this recipe for a true detox- you won't need it anyway!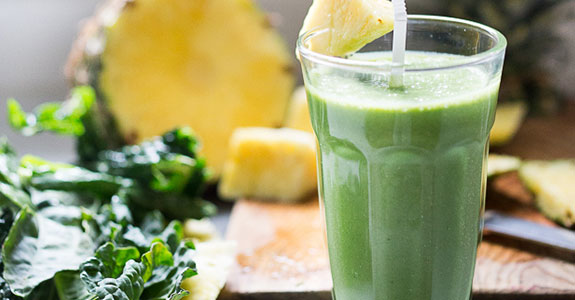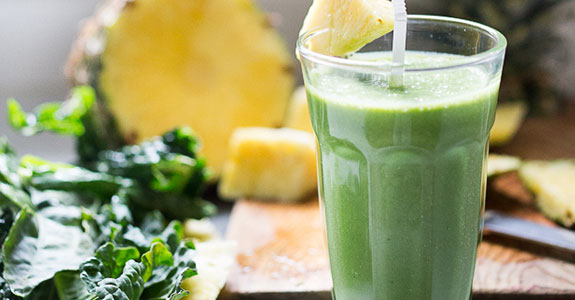 Photo: Feasting at Home
2. Matcha Pineapple Smoothie
This smoothie is loaded with tasty detox ingredients that blend together for a creamy treat. It features kale, pineapple, nut milk, matcha powder, lemon and a banana. Matcha is high in cancer fighting compounds as well as anti-inflammatory properties. Matcha is also high in antioxidants called catechins, which are known to be very potent and beneficial.
3. Watermelon and Kale Smoothie
This smoothie is infused with the antioxidant benefits of green tea. It also features flaxseeds, which are a good source of the healthy omega 3 fatty acids that are imperative for brain health. Omega 3's are also great for reducing inflammation and giving skin a healthy glow (as is green tea).
4. Matcha Mango Pineapple Smoothie
No added sugar or honey is needed in this recipe that calls for matcha green tea, pineapple, and mangoes, which provide all the natural sweetness you need. Pineapples are high in a compound known as bromelain that is great for reducing inflammation, especially in the gut where roughly 70 percent of the immune system resides.
5. Citrus and Green Tea Detox Smoothie
This healthy detox recipe is great on a warm day when you need a chilled beverage. It features the citrus goodness of grapefruit, orange, and lemon, which helps clean and purify blood. Citrus fruits are also great sources of vitamin C for all the free-radical scavenging support you may need.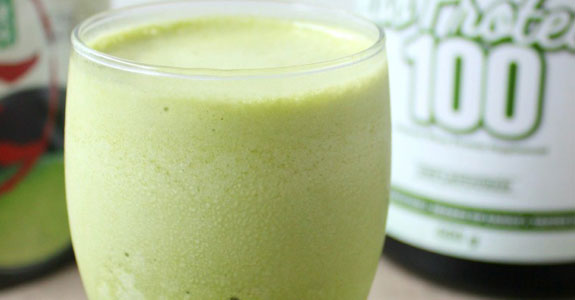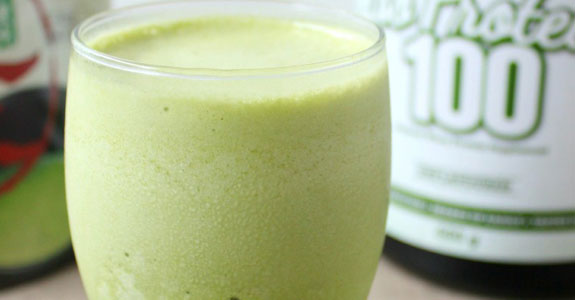 Photo: Wholesomely Homemade
6. Matcha Green Tea Protein Shake
Matcha is high in flavonoids including catechins and their derivatives, which are thought to give green tea its anticancer and antioxidant effects as they are potent free radical scavengers. Matcha also promotes general health by reducing inflammation (particularly in the gut) and limiting the growth of certain bacteria associated with periodontal diseases. Omit the cane sugar or replace with your favorite fruit.
7. Peach Green Tea Smoothie
Peaches are a good source of vitamins A, C, E, and K, as well as vitamins B1, B2, B3, and B6, folate, calcium, potassium, magnesium, iron, zinc, copper and dietary fiber. Not to mention they are also delicious and incredibly sweet!
8. Miracle Matcha and Pineapple Smoothie
This nutrient packed smoothie includes spinach, pineapple, coconut water, and of course, matcha. Coconut water contains kinetin and trans-zeatin, which are cytokines that have anti-inflammatory properties. It is also naturally sweet so you can forget adding that honey! And pineapples contain bromelain, an anti-inflammatory compound that is especially good for reducing gut inflammation.
9. Mint Matcha Smoothie
This smoothie recipes features some of the best green superfoods, including matcha, spinach, and an avocado. The avocado gives this smoothie a creamy finish. It is also high in good fats, which may help reduce blood sugar levels and inflammation. Mint is also great at stimulating and supporting the digestive system in addition to freshening up your breath!

Photo: The Busy Baker
10. Watermelon Green Tea Refresher
This recipe is perfect for cooling off on a hot day or whenever you need a refreshing beverage. It contains three ingredients (green tea, watermelon, and lime juice) for a clean smoothie that may help remove toxins, reduce inflammation, restore immune system health, and may even give you a boost of energy!
11. Tropical Punch Green Smoothie
If you're looking for a naturally sweet and fruity treat that won't spike blood sugar levels and may even help you lose weight, you came to the right recipe. In addition to protecting against cancer and free radical damage, matcha green tea may be able to boost metabolism.
12. Matcha Date Smoothie
This recipe is easy to follow and tastes more like a dessert than a healthy smoothie! Just blend together some matcha, water, dates, and almonds and you have yourself a healthy breakfast or snack in between meals. It's creamy, satisfying, and great for enjoying year round.
13. Matcha Chocolate Shake
This recipe puts a healthy spin on the traditional chocolate milkshake. It features spinach, non-dairy milk, green tea, dates, and raw cacao powder. Green tea and raw cacao powder are excellent sources of polyphenols, or plant based compounds that have been shown to protect humans in the same way they protect plants.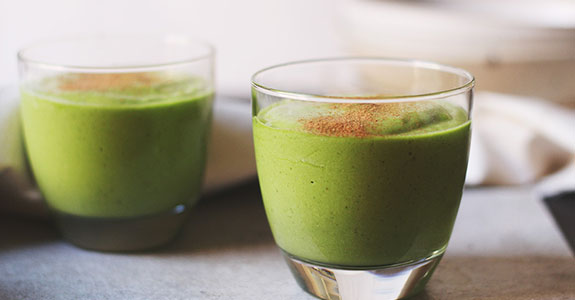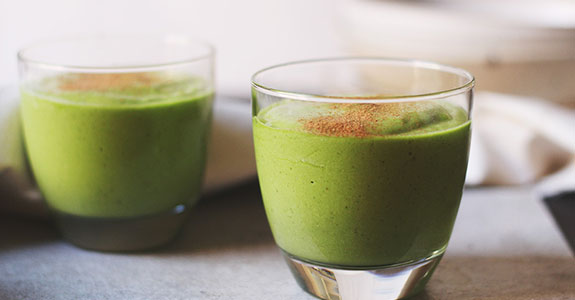 Photo: To Her Core
14. Avocado and Lime Green Tea Smoothie
Avocados are a great base for smoothies. They blend up nicely for a thick and creamy texture, yet they mix in nicely with just about any other ingredient added. This recipe calls for a powerful antioxidant blend of kale, apples, zucchini, ginger, parsley, lime juice, almond milk, and avocado.
15. Lemon, Ginger, and Green Tea Smoothie
Health benefits of Matcha include a high antioxidant level, which may protect against hepatic and renal damage as well as decreasing hepatic glucose, triglyceride, and total cholesterol levels. Matcha may also be beneficial in aiding with weight loss as it blocks intestinal absorption of lipids and improves glucose metabolism, which helps prevents blood sugar spiking.
16. Matcha Green Tea Smoothie
This easy recipe is both delicious and healthy. Ingredients needed include green tea powder, an avocado, a banana, and some non-dairy milk. Because of the sweetness of the banana, you shouldn't need to sweeten with honey, especially if adding dates to your homemade nut milk.
17. Matcha Coconut Almond Smoothie
This smoothie is both delicious and easy to make. Polyphenols and flavonoids found in matcha green tea may help protect against infections. Research indicates that drinking matcha may prime the immune system against free radicals by teaching disease-fighter immune cells to recognize and remember alkyl amines (toxins).

Photo: Hoemmade Nutrition
18. Green Tea Mango Smoothie
This smoothie gets its beautiful green color from spinach leaves and brewed green tea. It also calls for an apple, mango, and banana for a naturally sweet taste. Mangoes contain over 20 vitamins and minerals as well as the antioxidant zeaxanthin, which may help protect eye health and damage from macular degeneration.
19. Coconut Matcha Smoothie
The base of this recipe is a coconut drink. Coconuts contain over 50 percent of medium chain fatty acids, which have many health benefits, including weight loss, increased energy, seizure reduction, improved digestive and cognitive health, and a decreased risk for heart disease and chronic inflammation.
20. Apple Mint Smoothie
This smoothie gets its wonderfully green color from cucumber, kale, mint leaves, and green tea. It's naturally sweetened with apples, lime juice and coconut water. Mint aids in the stimulating of the digestive system. It also contains an antioxiodant known as rosmarinic acid that has been shown to provide relief in season allergies.
21. Kiwi, Ginger, and Matcha Smoothie
Kiwis are highly praised for their many health benefits as one of the healthiest foods that can be eaten. They are high in vitamins C, E, K, folate, carotenoids, potassium, fiber, and phytochemicals. Kiwis may also increase HDL, or "good" cholesterol, and decrease triglyceride levels as well as the formation of blood clots and hypertension.

Photo: Kurry Leaves
22. Mixed Berry Green Tea Smoothie
Berries are naturally high in anti-inflammatory antioxidants such as anthocyanins, which are associated with reducing age-associated oxidative stress. Anthocyanin antioxidants found in berries may improve cardiovascular disorders and degenerative diseases. They may also improve neuronal and cognitive brain functions, ocular health, and protect DNA cellular activity.
23. Green Tea and Cantelopue Smoothie
Cantaloupe is high in the antioxidant beta-carotene. In fact, it's got about 30 times more beta carotene than oranges. Antioxidants help to neutralize free radicals and eliminate toxins that would otherwise make it easy for diseases to thrive. Be sure to omit the sugar in this recipe. You won't need it anyway!
24. Fruit and Tea Rainbow Smoothie
This layered smoothie looks almost too good to drink! It features several layers of different colored ingredients, including pineapple, mango, kale, blueberries, green tea, and raspberries. Look for a brand of yogurt that has a low sugar content, such as Greek yogurt, as it is already sweet enough!
25. Gingery Green Tea Smoothie
Ginger is great for soothing an upset stomach. It contains carminative properties that help relax the gastrointestinal tract while promoting the elimination of gas. It also contains anti-inflammatory properties and antioxidants called gingerols that have been shown to improve symptoms in people with inflammation related illnesses such as osteoarthritis or rheumatoid arthritis.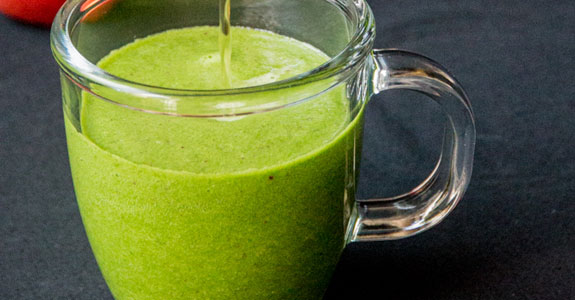 Photo: Kitchen Sanctuary
26. Hot Green Tea Smoothie
This smoothie recipe could easily turn into a meal replacement. It's ideal for a hearty breakfast or a snack in between meals. If using protein powder, go for pea protein. Peas contain 8 grams of protein per serving along with a good source of fiber and antioxidants.
27. Green Tea Smoothie
Smoothies aren't just for summertime. Pull out this recipe next time a cold day hits and you need a bit of comfort. It features dates, green tea, an apple and kale. It's naturally sweet so you won't need to add a sweetener. And it's full of antioxidants and vitamins such as vitamins A and K.
28. Vanilla Chai Matcha Matcha Smoothie
This recipe breaks down everything you need to know about adding green tea to foods. Ground cinnamon and cloves give this smoothie a warm and delicious taste. And the almond paste keeps you fuller longer. It would make a delicious breakfast or even an after dinner treat that won't make you feel guilty about splurging.
29. Blueberry Green Tea Smoothie
Blueberries are a true superfood. They contain high amounts of vitamins C and K, as well as manganese. They also have huge amounts of antioxidants that may protect against DNA damage, which may help prevent cancer. Blueberries may also prevent heart disease and lower blood pressure levels.

Photo: Recipes form a Pantry
30. Mango Matcha Smoothie
Mangoes are deliciously sweet and full of all sorts of great nutrients, including vitamin C, potassium, fiber, and beta carotene. Foods that are high in fiber, such as mango, may be able to reduce constipation as well as high blood sugar levels. Not to mention they sweeten up a green tea smoothie quite nicely!