Healthy Soups
Alkalizing Green Detox Soup to Flush Out Toxins
After a long winter, when our bodies are deprived of fresh nutrients, vitamin D from direct sunlight and outside exercising, a detox week is the best thing you to restore your wellness estate. Fresh juices, smoothies and soups are a must during detox. They give a break to the digestive system, giving it time to restore the good bacteria, and also nourish the body cells with fresh vitamins and minerals that flushes the water and toxins out of the body cells and help the liver metabolize these.
Choosing seasonal ingredients is another must, not only during detox, but also for a healthy diet. Especially now, at the beginning of spring, there is a wide array of fresh greens, veggies and fruits to restore your necessary nutrients you were deprived from during winter. They are loaded with potassium and antioxidants, so your body cells will be alkalinized. The chlorophyll in fresh greens like nettles, spinach, parsley or watercress nourishes the body cells with a wide abundance of enzymes, vitamins, phytonutrients, and also oxygen. You will feel energized, restored and rejuvenated.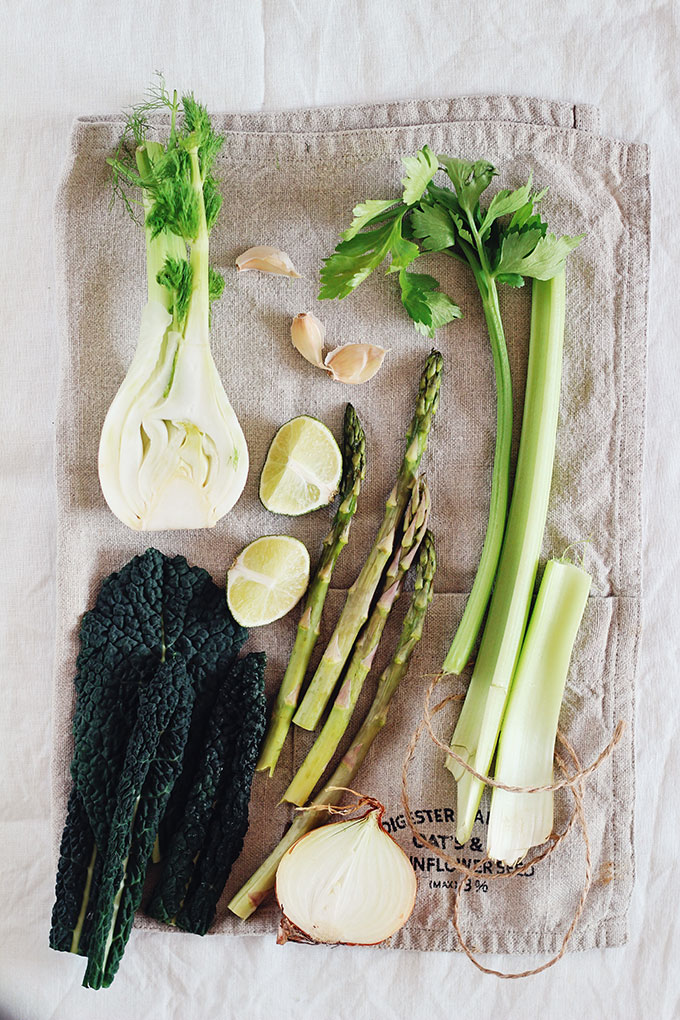 I love to visit the farmers' markets in early spring, and spot new fresh herbs, greens and veggies every week. Nettles, rams, fresh spinach, asparagus, peas, celery stalk, watercress – with their bright green, I can almost touch their vibrating energy and I understand how much their nutrients mean for my body cells. So I buy in bulk, and prepare fresh cream soup, green juices and smoothies almost every day.
Why do you need to alkalinize your body cells? After long periods of ingesting acidic foods to the detriment of fresh, alkalizing foods, our bodies pH changes and chronic diseases, like arthritis, cancer, osteoporosis, gout and eczema could make their way into our bodies.
Spring greens are among the most alkalinizing foods, and they will fast track our bodies to their alkaline, healthy state. During a detox diet, avoid acidic and toxic foods like: alcohol, sugar, grains, meat, dairy and coffee, avoid salt which unbalance the healthy mineral exchange in the cell membrane, and rely on these ingredients instead:
− Fresh vegetables and greens in season
− Nuts and seeds, soaked
− Healthy fats (avocado, extra virgin olive oil, coconut oil)
− Herbs and spices
− Herbal teas
This alkalizing green soup has everything you need to feel restored: loads of nutrients, alkalizing greens, delicious taste and vibrant green color. I added kale for an extra nutrient load, especially protein, calcium and antioxidants.
Print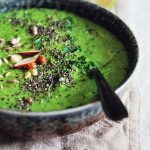 Alkalizing Green Detox Soup
Scale
1

bunch fresh asparagus, roughly chopped

1

small onion, finely diced

1

bunch fresh kale leaves, roughly chopped

1

fennel bulb, finely diced

1 cup

fresh spinach

2

celery stalks, roughly chopped

1

&1/2 cup low-sodium vegetable stock

2

garlic cloves, minced

1 tsp

coconut oil

1

lime, juice only
Toasted nuts and seeds, to garnish
Heat the coconut oil in a soup pot, add the onion, garlic, asparagus, fennel and celery stalks and cook for 5 minutes over low heat.
Add the vegetable stock, bring to boil and simmer over low heat for 5-7 minutes.
Add the kale leaves and spinach, and remove from the heat.
Transfer into the blender, add lime juice and process to obtain a smooth cream. Add more vegetable stock to adjust the texture.
Serve warm, topped with toasted nuts and seeds.