Healthy Drinks
Beet, Apple and Ginger Detox Juice
It's incredible how the humblest ingredients can have such a powerful impact on our health. Apples and beetroots are probably the easiest-to-find foods and ones with excellent benefits for our health. Still we search for expensive superfoods to cure our diseases and boost our energy levels. This is a very simple juice recipe, but if you consume it regularly, the health benefits are definitely noticeable!
I've always felt that I can't say enough about the detoxifying properties of beets and how amazing they are for our health. These purple roots hide a real treasure of nutrients, of which the unique betalains act as triggers for our natural detoxification process. Something as simple as a root grown in the ground can be a real catalyst for our health and wellbeing.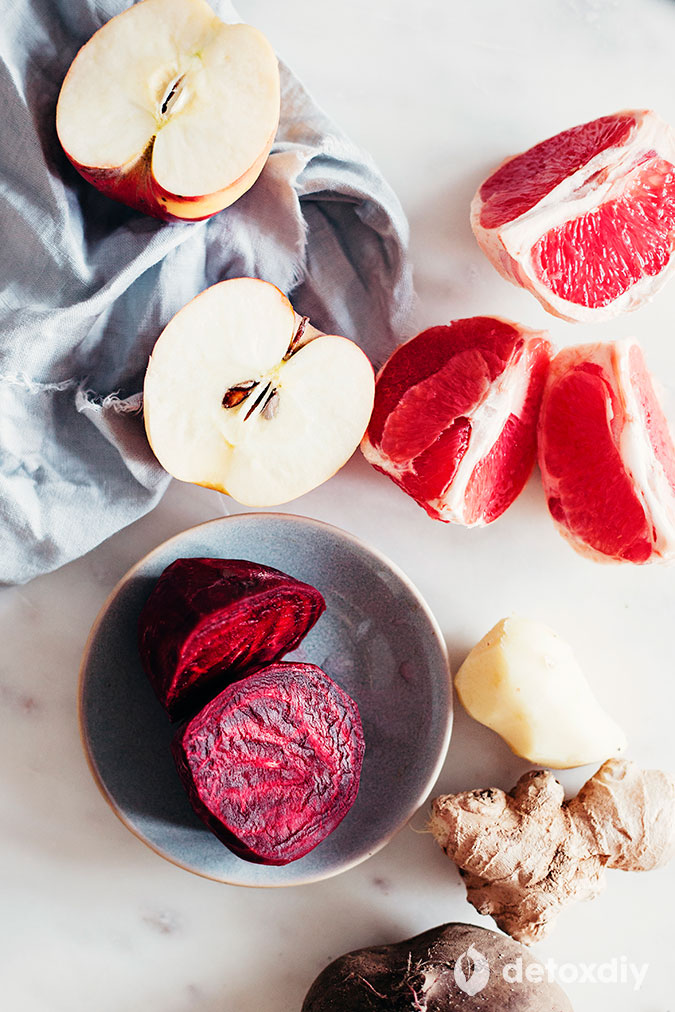 The betalains offer further antioxidant and anti-inflammatory protection, helping our cells flush out toxins and restore themselves, while also inhibiting cancer cell growth. Betalains are quite sensitive to heat, and when preparing beets you can easily destroy these valuable nutrients if you overcook the roots. This is why it is always a better alternative to have them raw, in salads, smoothies, or juices.
Beets also contain folate, a B complex vitamin, with a crucial role in cell regeneration, along with essential and trace minerals (manganese, magnesium, potassium, iron) with key detox activities in the body.
Apple is a fantastic addition to this detox juice, given its hydrating properties, but mostly because of its high content of pectin, the soluble fiber which binds with the toxins and cholesterol, and flushes them out of the system. Pectin stimulates the bowels helping to eliminate waste, and cleansing the colon while nourishing good bacteria colonies.
Ginger stokes the digestive fires, reducing symptoms of irritable bowel syndrome and bloating. Its active nutrient called gingerol also has antioxidant and anti-inflammatory properties, kills cancerous cells and inhibits their growth, and stimulates the immune system.
This juice can be enriched with other nutritional ingredients. Some of my favorite variations include a citrus fruit such as grapefruit, lime or lemon for its refreshing taste, carrots for their high levels of beta-Carotene, or pineapple for the high concentration of vitamin C and manganese, essential during the energy production process within our cells.
(You may also like: Pomegranate Detox Tea)
Beet, Apple and Ginger Detox Juice
Scale
2

medium beets, peeled and cut into quarters

2

organic apples

2

inch ginger piece, peeled

1

grapefruit, peeled
Juice all the ingredients and serve right away.