Superpowered Tea
Soothing Ginger and Dandelion Tea for Healthy Digestion
A good herbal tea can do far more than simply help you relax. And depending on the herbs you choose, you can get a powerful mix of health and restorative benefits. Take, for instance, this ginger and dandelion tea, which you should consider making a nightly ritual, especially if you suffer from tummy issues.


Ginger has long been used as a digestive soother. It works along pretty much the entire length of your digestive system, and has long been known to ease indigestion. Not only that, it helps boost your immune system (1).
Ginger is a powerful ingredient to include in your daily diet, and this tea is an easy and tasty way to enjoy it.
Dandelion is a powerhouse of a plant, and one that's worth learning more about. It is rich in vitamin A, various minerals, protein (more than spinach), and has been used for thousands of years to treat all sorts of disorders, including depression.
As far as your digestive system is concerned, dandelion root tea functions as a mild laxative and diuretic which promotes digestion and increases bowel movements, and it balances the good, natural bacteria in your intestines (2). So next time you see a field of dandelions, remember that this so-called "weed" is worth a lot to your health, and get picking!
You can enjoy this tea any time, but it's especially good before bedtime, thanks to the relaxing benefits of chamomile.
You'll note that this tea blend uses dandelion root tea. Here's a guide to the 6 most popular detox tea brands, and their ingredients.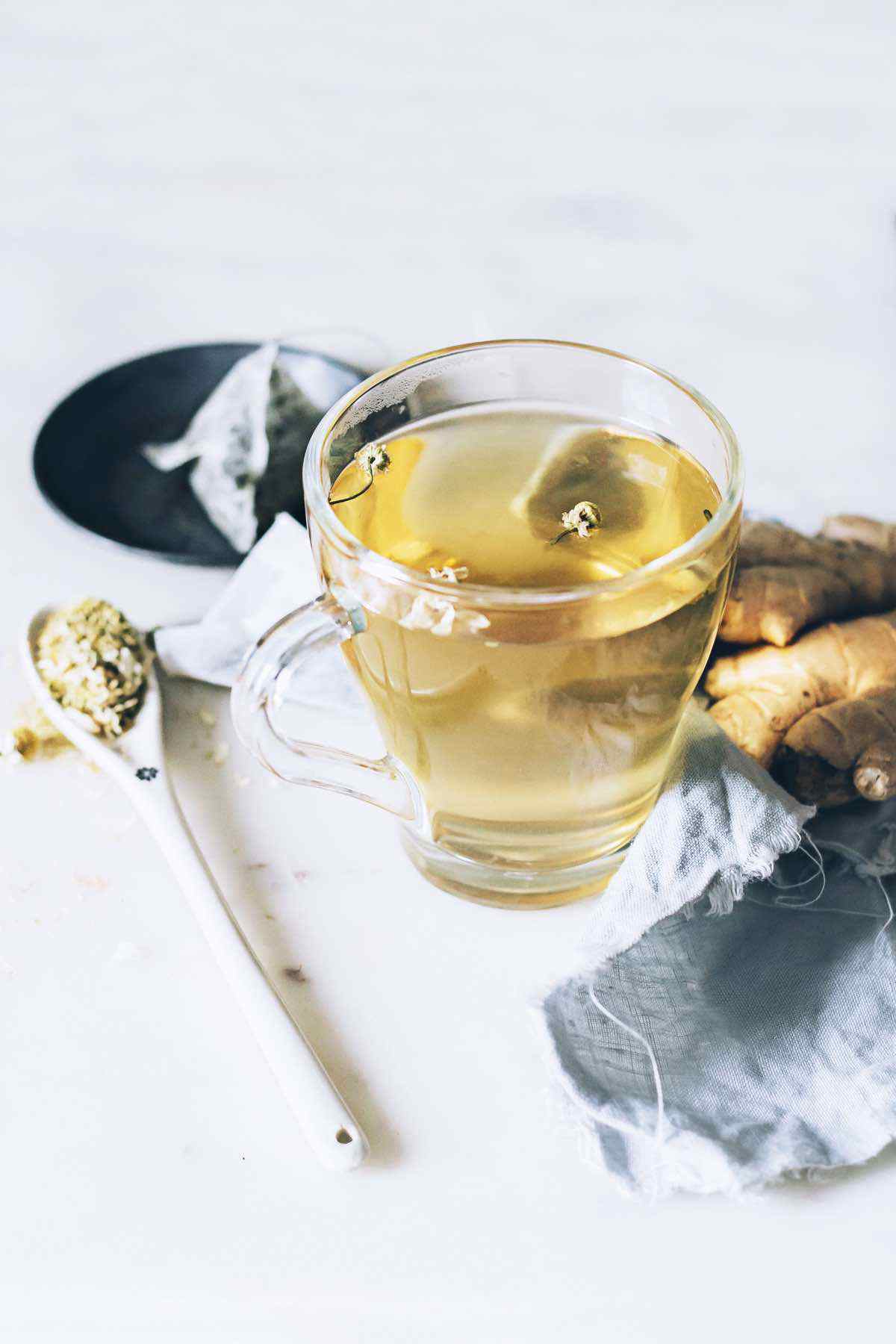 (You may also like: Cayenne Pepper Detox Tea with Turmeric and Coconut Oil)
Soothing Ginger and Dandelion Tea for Healthy Digestion
Scale
1

-inch ginger knob, peeled and grated

2

bags dandelion root tea

1 tsp

dried chamomile

5 cups

purified water, hot boiling
Add all the ingredients into a kettle and infuse for 5 minutes.
Strain and drink warm.