Infused Water
38 Detox Waters to Cleanse Your Body and Mind
Drinking detox water is a great way to stay hydrated during a detox, and can be used as part of an everyday regimen. These recipes show you several different combinations so you'll always have a new flavor to enjoy.
Drinking the right detox water can help you burn fat by providing your body with the vitamins and minerals it needs to function like a well-oiled machine. Here are three different fat burning detox waters, each one delicious and ready to fuel you up.
Wake up and immediately start helping your body out with this morning lemon detox water. Lemon water is a great first beverage for your day, helping to hydrate you and providing enzymes to get your digestive system started up. This lemon water recipes is upgraded with a bit of apple cider vinegar and cayenne pepper.
Citrus fruits can be very detoxing thanks to the alkaline effect they have on the body. This recipes uses both grapefruit and lemon to provide plenty of Vitamin C, and infuse the water with classic citrus flavor. It's a beverage you can enjoy throughout the year, and will provide you with vitamins and minerals.
Photo: Confessions of an Overworked Mom
Get the delicious flavor of apples and cinnamon in this easy-to-drink detox water. You'll also get the benefits come from both apples and cinnamon. Apples have a unique mix of vitamins and minerals, and cinnamon has long been used as a healing spice. They're using organic apples, a great idea when making detox water so it's free of chemicals.
This detox water is not only good for you, it's also fun to drink which means you'll drink it more often. Chia seeds are so small that you can swallow them without chewing them up, and get the fiber, protein, and plant-based omega-3s they contain. To make it taste even better there's lime juice which also adds Vitamin C.
This water is especially made for dieters, but you can use it to detox as well and it will help you flush your system. It's loaded up with green apple, cucumber, and mint, so you're getting antioxidants, vitamins, and minerals in each sip. This is a crisp and refreshing water you can enjoy as often as you'd like.
This detox water is sure to hydrate you because it's made using coconut water. This means it will include enzymes and electrolytes that you just don't get from regular water. Leave out the club soda and you'll still get a great water that's even better at detoxing you.
Detox waters are all about infusing the water with the nutrients from fruits and vegetables. In this case they're using mango and lime for a delicious flavor, but you'll also get the antioxidants from the mango, and the Vitamin C from the lime.
You don't have to feel lightheaded when you're on a detox, and getting enough water is key. This refreshing detox water will keep you hydrated and clear headed thanks to a combination of oranges, mint, cucumber, and lemon. A cool drink filled with antioxidants and fresh flavor.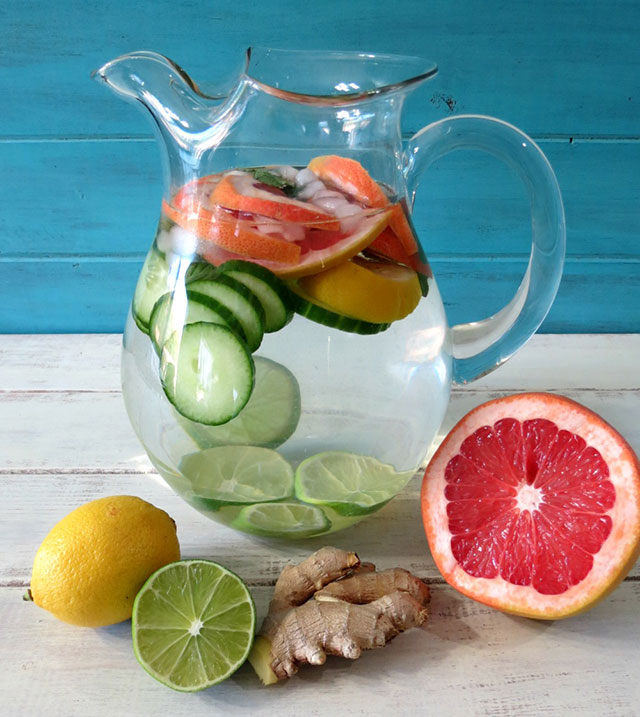 Photo: Peanut Butter and Peppers
Don't be fooled by the simplicity of this detox water, it still does the job. It's made with ingredients that have been hand-picked thanks to their detoxing qualities. It's important to note the use of fresh ginger, which will help calm the stomach and improve digestion.
You'll see mint being used in a lot of detox waters. That's because of its cooling taste in the mouth, and also the large amount of antioxidants it contains. You'll see it paired here with cucumber and lemon, two other common detox water ingredients.
Here you'll see two different ways to infuse water with the power of fruit. She shows you how to make a strawberry water and a watermelon water. Each of these fruits contain antioxidants and a sweet flavor that encourages you to drink more water on your detox.
Blueberries make a natural choice for a detox water thanks to their renowned antioxidant numbers. By letting the berries soak in the water the antioxidants are able to seep out while remaining intact so you can drink them up and absorb them easily.
Grapefruit has long been used as a weight loss aid, but it also works as a detox aid as well. When you let it sit in the water its nutrients become part of the water and its as if you're eating the grapefruit without actually eating it. It's full of Vitamin C and can get your metabolism going.
Dislike eating oatmeal but still want to get its benefits? Try oatmeal detox water, which provides the nutrients from oats without having to sit through a bowl of oatmeal. This is a healing water whose proponents say it can remedy everything from a cold to infections.
Photo: Eat.Drink.Love.
16. Raspberry Watermelon Water
Raspberries and watermelon are two fruits that are tasty to eat all by themselves. But the goal with detox water is to get you drinking more water and making that water even more powerful with fruit. Watermelon contains lycopene, a powerful antioxidant for detoxing, and raspberries are also known for the antioxidant content.
17. Strawberry Lemonade Probiotic Water
Your digestive system along with your liver represent your two most important detox systems, and making sure you take in probiotics will help your digestion and improve your detox capabilities, helping to whisk away toxins and prevent them from getting re-absorbed by the body.
Blackberries tend to take a backseat to blueberries, strawberries, and raspberries, but they're still a great source of antioxidants, and taste great in this detox water. Mint is used for even more antioxidant power, which goes to work in your body fighting free radicals and the damage they cause.
19. Cinnamon Strawberry Detox Water
Cinnamon and strawberries may not sound like a popular combination, but it works in this detox water. You get the healing benefits of cinnamon mixed with the antioxidants of strawberries in one water. A lime helps to tie it all together and make it even more cleaning for the body.
20. Lemon Cayenne Ginger Detox Water
Cayenne can help your metabolism get going, and lemon will get your digestion in gear. Ginger helps to calm your digestive system, and is also deeply cleansing to the body. Put them all together and you've got a great detox water than you can drink anytime throughout the day.
Photo: GI 365
21. Springtime Strawberry Detox Water
Spring is a great time to detox, and this springtime strawberry detox water can help just about any detox program. It will help you stay hydrated as the weather starts to warm up, and is loaded with antioxidants from the strawberries as well as their signature flavor.
Enjoy this pear infused detox water made with two pears and a ton of fresh ginger. Be sure to use fresh ginger because it doesn't have the same effect if you try using a powder. There are four other detox water recipes on this page, each one designed to help you release toxins.
You may have heard of Sassy Water, which is basically a detox water that has been shown to help people lose weight, especially in the tummy area. It's a simple concoction of lemons, mint, and cucumber, but it's remarkably effective and owes its success to its detox effect.
24. Strawberry Kiwi Detox Water
Strawberry and kiwi goes together amazingly well, and each of these fruits is cleansing for the body. By soaking them in the water you release not only their flavor, but also their antioxidants and vitamins so you can drink them up in the water and be fully refreshed and recharged.
25. Raspberry Lemon Detox Water
Raspberry and lemons both have a tart taste, but each one helps the body in a different way. Lemons do so with Vitamin C, which acts as an antioxidant in the body, and raspberries are known for their high antioxidant content. Be sure to use organic raspberries for best results.
When starting out with detox water it's important to have a large list of different recipes so that you can tailor it to what you have on hand, or what you're in the mood for. Here are three ways you can make fruit infused water that replenishes key nutrients.
Photo: Fuss Free Cooking
27. Fruit Infused Coconut Water
Coconut water by itself is a great detox beverage, but for many the taste needs an upgrade. That's where fruit enters the pictures, and here they're showing you four different ways you can doctor up that coconut water so you'll crave it.
28. Apple Cinnamon Cranberry Water
The more ingredients you add to your detox water, the more interesting it will taste and the more likely you are to finish the glass. In this recipe they're using a trio of ingredients including apples, cranberries, and cinnamon. There's also six more recipes on the same page for variety.
You might sometimes see detox water referred to as spa water. It's the kind of water they serve in upscale spas, particularly because of the cleansing effect it has on the body. Here they're using the antioxidants from mango coupled with the soothing power of ginger.
30. Lemon Pomegranate Infused Water
Pomegranates top the charts in terms of antioxidants, and here they're making a detox water that will be infused with plenty of nutrients. The lemon helps the flavor of the water and also adds in Vitamin C. Four hours of chilling and the water is ready to go.
Watermelon is more than just a summertime favorite. It's made up mostly of water, and contains two key nutrients, lycopene and beta-Carotene. Lycopene is a powerful antioxidant by itself, and the beta-Carotene is converted to Vitamin A in the body and has an antioxidant effect as well.
Cranberries are good for more than just a natural remedy for a urinary tract infection. That same healing power can help flush toxins from your kidneys, and makes a great addition to a detox. Here they're touting its ability to help with bloating, making it a great anytime drink.
Photo: A Sweet Simple Life
Strawberries, blueberries, and mint combine to load up this detox water with antioxidants. Surprisingly enough it's the mint that adds more antioxidants than the strawberries, and is on part with the blueberries. Lemons add in Vitamin C and digestive enzymes.
34. Lemony Herb Cucumber Water
Adding lemon to water helps to alkalize the body all by itself, so when you add in more ingredients like cucumber and a trio of herbs like mint, rosemary, and thyme, you're really stacking the deck in your favor. Each herb contains different types of antioxidants.
35. Orange and Basil Infused Water
The orange will add in Vitamin C to support your immune system during a cleanse, or just as a daily re-up of this important water-soluble vitamin. Basil is an antioxidant storehouse. Here you'll find an assortment of detox water ideas, each with their own benefits.
Turmeric has been used for generations in India as a healing spice. You can get its benefits by adding it to your lemon water and giving the water a totally new dynamic. The biggest benefit you can expect from this water is in the form of its anti-inflammatory ability.
37. Pineapple Blueberry Infused Water
Two delicious fruits are used in this detox water, pineapples and blueberries. Blueberries are known for the high antioxidant content, but pineapple is no slouch in this department either. Let it sit for at least an hour, preferably more to give the nutrients time to leach out of the fruit.
There are tons of ways you can infuse water and make it a more powerful detoxing agent. Here they show you a number of different recipes, including pineapple and mint and ginger and lime. All are great choices if you're looking to get more nutrients into your system.