Healthy Drinks
50 Detox Drinks to Reboot Your System & Lose Weight
The right detox drinks will add to your detox plan and help you avoid all of the unhealthy beverage options out there. Filled with healing fruits, vegetables, and other cleansing ingredients these drinks support the body's core detoxing systems.
This juice is as yellow as yellow can be, thanks to yellow bell peppers, lemons, and ginger. All of these ingredients support the body with antioxidants, vitamins, and cleansing properties. A mix of pear and apple provides sweetness to offset the sour lemon and spicy ginger.

Photo: Fermented Food Lab
Beets help the liver and the liver's main job is to filter out toxins so they don't enter the rest of your body. Be good to your liver and the rest of your detox efforts will be more effective. They show you two ways to make it, with oranges or apples and ginger.
Turmeric and ginger combine in this detox drink and each offers its own healing benefits. There's also a pinch of cayenne pepper to help get your metabolism going. Perhaps that's why Elenore drinks it in the morning, which she says helps her day go better on days she drinks it.
4. Katie's Favorite Detox Drink
Katie shares her favorite detox drink and we couldn't be happier that she did. It's a delicious mix of ginger, apple cider vinegar, lemon juice, and a packet of her favorite drink mix. In this case it's a protein-packed powder that can feed tired muscles, while the other ingredients help detox the body.
You may have heard that dandelion root is a great detox food, but it can sometimes be hard to remember to eat it. With this detox beverage you're getting the detoxifying benefits of dandelion root mixed with a tasty pumpkin spice to form a latte. You won't even feel like you're detoxing!

Photo: Girl Cooks World
Lemonade becomes healthy when you make it green, and it can also be used for a detox. The green color comes from kale and spinach, both high in phytonutrients that will be put to use almost immediately by the body. There's also apple and ginger for extra benefits.
With the fresh and sweet taste of watermelon both your body and mind will feel refreshed and ready to go. The sweetness of the watermelon does a good job balancing the flavor of the ginger, and coconut water provides natural electrolytes and enzymes that replenish the body.
If your digestive system is out of whack there's no way you can detox the body properly. This smoothie helps get some of the toxins out of your digestive organs so they can do their job more effectively. You get fiber, antioxidants, and helpful enzymes that support you in several ways.
9. Cucumber Grapefruit Green Iced Tea
The hydrating nature of cucumber meets the Vitamin-C loaded grapefruit in this delicious iced tea. Because it's made from green tea you're getting all of the antioxidants green tea is famous for, and this tea can also help you burn fat, which is a also a way to get rid of toxins.

Photo: 24 Carrot Life
Don't be scared of this "Vampire Juice", it just looks like something Dracula would want to drink. Raw beets give it that blood red color, and also betalain, a powerful antioxidant that helps support your liver. There's also celery, carrots, and apples for additional vitamin support.
Feel refreshed and rejuvenated with this citrus juice that contains two types of oranges and apple cider vinegar. Apple cider vinegar provides enzymes and helps to clean out your digestive system because of its antibacterial properties. There's also turmeric, a healing spice that works great for detoxing.
This turmeric detox drink is a great way to get turmeric into your system. This healing spice has been used for generations in India, and recently science has been backing up what natural healers have known all along. There's also plenty of ginger for added benefits.
13. Orange Mango Papaya and Passion Fruit Juice
The best feature of this juice is that it tastes great, since you can't benefit from a detox drink if you don't drink it. When it tastes this good you'll end up making it more often, and even craving it. An assortment of tropical fruits gives your taste buds and body quite a treat.

Photo: Julie's Jazz
14. Watermelon Cucumber and Coconut Milkshake
Watermelon and cucumber are two hydrating choices because they're made up mostly of water. The coconut flavor comes from toasted coconut milk, which keeps this milkshake dairy free and makes it easier on the digestive system. This is a delicious way to get vitamins and minerals into the body, as well as some protein and fiber.
Detox waters are an excellent way to keep yourself well hydrated on a detox, while at the same time providing vitamins and minerals that replenish your reserves. This detox water is infused with the goodness of lemons and ginger, so you'll get Vitamin C, enzymes, and the calming effect of ginger.
16. Cinnamon-Lemon Slim Down Drink
Whether or not you need to slim down, this cinnamon-lemon drink is perfect for a detox. It's a simple mix of lemon juice and cinnamon in water, but these two ingredients work in a powerful way on the body. Be sure to use organic lemons and cinnamon for best results.
17. Strawberry Lemonade Aloe Vera Smoothie
The delicious flavor combination of strawberries and lemon is joined by aloe vera in this healing detox smoothie. It can be a little hard to drink aloe vera all by itself, but when you mix it into this strawberry lemonade you'll get all of its benefits with a better taste.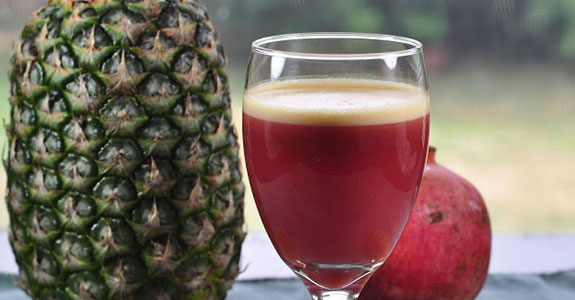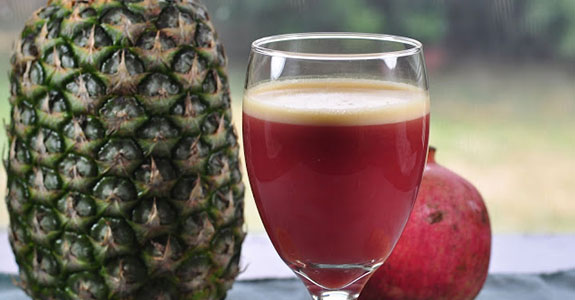 Photo: Zesty South Indian Kitchen
18. Pomegranate Pineapple Lemon Juice
There are plenty of antioxidants in pomegranates, which is why they've been making so many health news headlines in recent years. Combine them with the antioxidants and vitamins in pineapple, and top it off with the Vitamin C and enzymes in lemons and you have one fine detox beverage.
This shake is an antioxidant powerhouse thanks to the pomegranate juice it contains, as well as the strawberries. It's the sort of shake that tastes great just about any time of day when you feel the need for refreshment but want to do something good for your body at the same time.
If you've ever priced kombucha at the store, you probably determined that it's pretty expensive. You can make your own at home but it can be an extensive process. Here they're showing you how to make kombucha that tastes great and doesn't cost an arm and a leg.
If you could have had a V8 you could also have made yourself this tomato cilantro juice and been better for it. There's no need to subject yourself to the additives and preservatives found in store bought vegetable juices, not to mention the chemicals they contain from low-grade conventionally grown vegetables.

Photo: Planes To Plates
Coconut water should be part of your detox strategy, since it's ultra-hydrating and staying hydrated is important when you're trying to detox your body. It contains natural electrolytes as well as enzymes that support your digestion. Here it combines with pineapple juice to make it taste better.
23. Peach, Turmeric, and Ginger Detox Smoothie
The sweet flavor of peaches is what you mostly taste in this detox smoothie. The turmeric and ginger do provide their strong flavors, which can be an acquired taste. The bright color of the turmeric gives the smoothie its hue, and loads it up with important antioxidants.
Good things can come in small sizes, and this ginger detox shot proves it. You don't need a big glass full of smoothie or juice in order to help the body. In this shot there's lemon, ginger, and some cayenne pepper so it's designed to calm the digestive system and power you up with vitamins.
Something as simple as carrot apple juice can be used as a detox drink. The carrots contain beta-Carotene, which the body converts to Vitamin A and has an antioxidant effect on the body. The apples provide their special type of fiber known as pectin, as well as essential vitamins and minerals.

Photo: Ocean View Kitchen
You'll think this drink really can perform miracles based on how you feel after drinking it. It's loaded with fruits and vegetables that are known to support the body, but there's also a special ingredient called sea buckthorn powder, which specifically supports a healthy liver.
Making a tasty green juice doesn't have to be hard, and in this recipe they're using just three ingredients to get the job done. It contains oranges, spinach, and celery, each of which provide different vitamins and minerals to support different parts of the body.
Eating an assortment of brightly colored vegetables may be a daunting task, but in this veggie juice you're essentially doing just that. You'll still get the vitamins and minerals they contain, and these will be easier for the body to digest and assimilate since they're in juice form.
Creating your own almond milk from home is a great way to avoid using dairy in your detox plan. Conventional dairy contains hormones, antibiotics, and chemicals from the feed that was given to the cows. It's also been pasteurized and homogenized, all of which works against your detox efforts.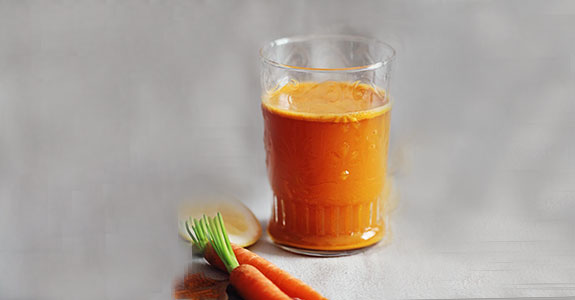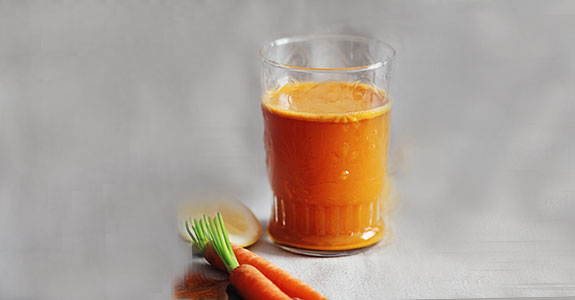 Photo: The Awesome Green
Bring harmony to your morning with this special juice that helps your body get rid of toxins in a healthy and natural way. Carrots, apple, turmeric, and ginger work their magic, and she also provides two other delicious juice recipes, including a Healing Green juice and Berry Sunrise.
31. Cashew Milk Cleansing Drink
Here's another milky beverage that you'll love to drink, and that can support your detox. The creaminess of milk actually comes from cashews, so you'll get healthy fat and protein in this drink, as well as a nice flavor from cinnamon spice and vanilla extract.
32. Grapefruit Carrot Ginger Juice
Grapefruit is a wonderful fruit and will upgrade any detox with its high amounts of Vitamin C and Vitamin A. These help out your immune system, and it's important to keep your immune system strong while you detox to avoid the symptoms caused by releasing so many toxins at once.
This lemonade contains both turmeric and ginger, two healing roots that have been used for centuries in alternative healing. They are joined by lemonade and a natural sweetener of your choice to make a cooling and refreshing lemonade, perfect for a summer detox plan to help you stay hydrated.

Photo: Health Yummies
We've seen how beets can play an important role in your detox thanks to the help they give the liver. In this juice beets get the main focus, joined only by apples, carrots, celery, and a bit of ginger. The additional ingredients not only add nutrients, but help to improve the flavor as well.
Feel like a deity with this green juice, and you'll be drinking in an assortment of vitamins and minerals, as well as healthy fat. Avocado provides these healthy fats in addition to the minerals and fiber it contains. Banana and avocado both provide plenty of potassium, an essential mineral during a detox.
Two major detoxifying vegetables join forces in this juice in the form of dandelion greens and beetroot. Make sure you have a good juice for this recipe, as it will need to extract all of the vitamins and nutrients from the greens and beets so these can be taken in by the body.
Teas make great detox drinks, especially when they're made using spices, herbs, and fruits that are known to help support a detox. In this tea they are using both orange peel and cloves to create a distinct flavor, while at the same time helping the body with nutrient-dense cloves.

Photo: The Tasty Bite
38. Pineapple Detox Green Smoothie
This pineapple green smoothie works well for your detox thanks to the antioxidants found in pineapple, as well as the fiber and minerals from kale. The Vitamin C in pineapple supports a healthy immune system, and additional fiber that will keep your digestion going strong.
39. Pineapple Carrot Ginger Wheatgrass Juice
If you've tried drinking wheatgrass juice by itself and didn't like it, try this recipe which adds in pineapple, carrot, and ginger for a totally different taste. You'll still be getting the detoxing benefits that wheatgrass provides, plus all of the extra benefits from the fruit, vegetable, and ginger root.
Here's a delicious detox juice that has plenty of oranges and their signature Vitamin C. There's also carrots with their beta-Carotene, and mint with its antioxidants. A far better choice than just drinking orange juice, and the ginger and fennel will help calm and cleanse the digestive system.
If regular kombucha does not appeal to you, it may be a matter of doctoring the flavor until you enjoy it. This recipe adds in pomegranate so you'll be getting a new flavor, plus a host of antioxidants that makes the kombucha even better for you.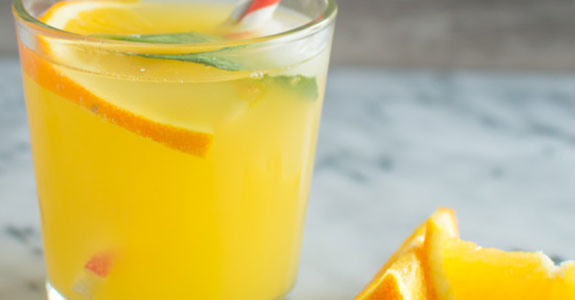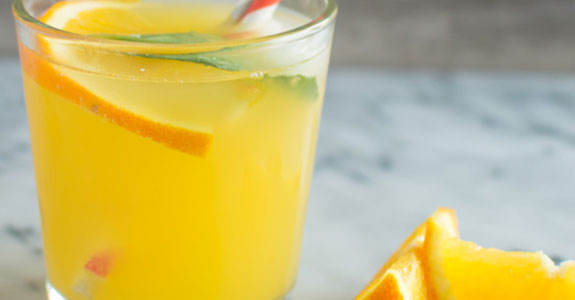 Photo: Healthy Nibbles And Bits
Oranges and mint help make this coconut water taste great, and also provide Vitamin C and antioxidants. Vitamin C is a water soluble vitamin, so you need to get enough of it each day. Mint is packed with antioxidants, even though it mostly gets credit for its cooling, fresh flavor.
Infusing your water with fruit is an effective way to take in the vitamins and minerals they provide, while also keep yourself hydrated. Here are three different ways to make fruit-infused water, with each one providing different benefits, and all of them adding to your detox results.
Doing a spring detox is a great idea, and this juice can help make it happen. Filled with celery, fennel, and kale, you're getting an influx of vitamins and antioxidants, as well as an extremely hydrating juice. There's also an apple for good measure, with additional nutrients and fiber.
Sometimes a nice glass of milk sounds just right, but you'll want to avoid most of the milk found in stores while you're trying to get rid of toxins. This green milk is easy to make, and contains no dairy, so you just end up with the goodness of almonds, spinach, and kale in a glass.

Photo: Bread And With It
46. Blueberry Coconut Pineapple Blender
This is an impressive mix of ingredients that are each designed to provide maximum nutrition during a detox. Blueberries are renowned for their antioxidant content, while pineapple adds in Vitamin C and fiber. Coconut flavor comes from coconut water, restoring electrolytes to the body.
There's no actual coffee in this dandelion root coffee, so you don't have to worry about caffeine and what that will do to your detox. The finished product may just satisfy your coffee craving though, and at the same time provide you with the nutrients from dandelion root and chicory root.
48. The Ultimate Detox Smoothie
You can't go wrong with this smoothie when you're trying to detox the body, since it's full of ingredients that are designed to give the body what it truly needs. It's a virtual line-up of superfoods, including banana, spinach, blueberries, flax seed, and almond milk.
49. Mango Ginger Detox Lemonade
This is a lemonade you'll want to try if you enjoy the taste of mango. It takes a traditional lemonade and adds in extra ingredients to make it a detox special. Ginger helps calm any digestive issues, and the mango provides antioxidants in addition to what the lemon brings.

Photo: Loves And Caramel
In this smoothie you're getting the antioxidants from mango, and even more from the mint. Mint has a great cooling flavor that enhances the mango, making this a smoothie you won't forget. It's a good reason to always pick up some fresh mango and mint when you're at the store.