Healthy Drinks
Mint, Lime and Cucumber Spa Water
Infused waters are the ultimate way to remind yourself to keep hydrated throughout the day, particularly if you are cutting out caffeine and soft drinks. This cucumber lime mint water is my favorite combination, and it's ultra refreshing but takes only a few minutes to throw together.

When you kick processed foods out of your diet for good you start discovering the natural flavors of dishes and ingredients without food additives and flavoring agents.
After just a few months on a clean diet, I started to develop a love for spices and aromatic herbs as a healthy way to flavor meals. It was like learning how to eat all over again! I love using all kinds of herbs and spices to replace extra salt in my food, but the one flavor that always takes my dishes and drinks to the next level is mint. Especially during summer when it's in season, I always have fresh mint in my refrigerator to make refreshing mint water to cleanse my digestive system and cool me off on hot days.
Fresh mint adds a burst of cool flavor to your infused waters, and it's excellent for digestive issues like IBS. Mint soothes the entire digestive tract, and it's the menthol in fresh mint that you can thank for that relaxing and comforting effect.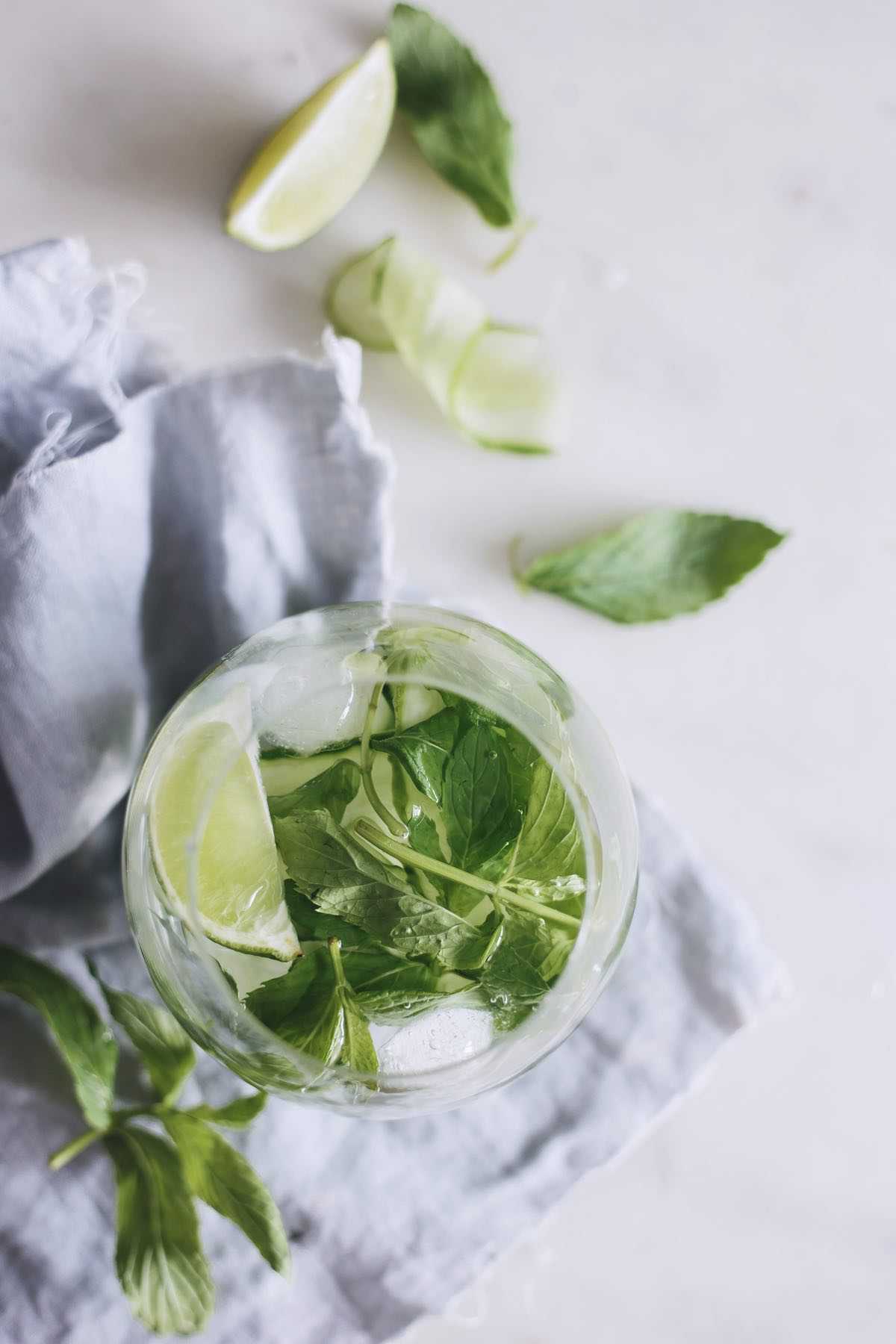 While the flavor is the reason I love fresh mint water, the anti-cancer and antimicrobial benefits also have me adding this herb to my daily diet everywhere I can. Fresh mint contains a phytonutrient called monoterpene, which inhibits tumor growth and helps prevent the development of chronic disease. It also contains phytonutrients involved in your body's natural detoxification process, like Vitamin C, manganese, and copper.
To make your own delicious mint water, think of fruits and flavors that mint pairs with really well, like pomegranate, grapefruit, cucumber, thyme, rosemary, basil, coconut, lemon, and lime. I like playing with these ingredients to shake up my day with a different mint water each time, but my favorite by far is this cucumber lime mint water.
It's full of antioxidants, especially Vitamin C, and it tastes so refreshing! As cucumber has a neutral flavor and lime tastes a little bit tropical, the fresh mint really stands out in this combination.
Mint, Lime and Cucumber Spa Water
Scale
1

small bunch fresh mint

1

small cucumber, cut into thin slices

2

organic limes, cut into slices

1 cup

coconut water

2 cups

purified water
Add all the ingredients into a pitcher and shake to combine.

Let infuse over night into the refrigerator, then serve.
Also Try These Incredible Infused Waters: