Healthy Smoothies
Coconut Water Green Tea Smoothie for Weight Loss
You'll love this awesome coconut water smoothie for weight loss. Strawberries, ginger, avocado, green tea and coconut water! It's yummy, sustaining and packed with nutrition.

Coconut Water + Green Tea + Strawberries for a Superpowered Weight Loss Smoothie
Because quality matters over quantity, counting calories isn't the best way to achieve and maintain a healthy body and weight. A healthy, balanced diet filled with ingredients that support the body's natural detox pathways is a better way to maintain a healthy weight, and I have a few favorite ingredients that seem to work wonders on both my taste buds and my waistline. Coconut water is one of them. If you're a fan of quick, easy breakfasts or post-workout snacks, this coconut water smoothie is a recipe you're going to want to try.
Coconut water is high in potassium, which is essential in maintaining healthy cell activity. Potassium works together in balance with sodium to keep your cells appropriately hydrated, which is why it's known as an electrolyte (think Gatorade…only healthy). Maintaining healthy hydration levels helps to release excess water and toxins, so you'll want to make sure you're including plenty in your daily meals and snacks. Since coconut water is naturally sweet and full of electrolytes, it's an excellent addition to your homemade smoothies to support hydration balance and weight loss.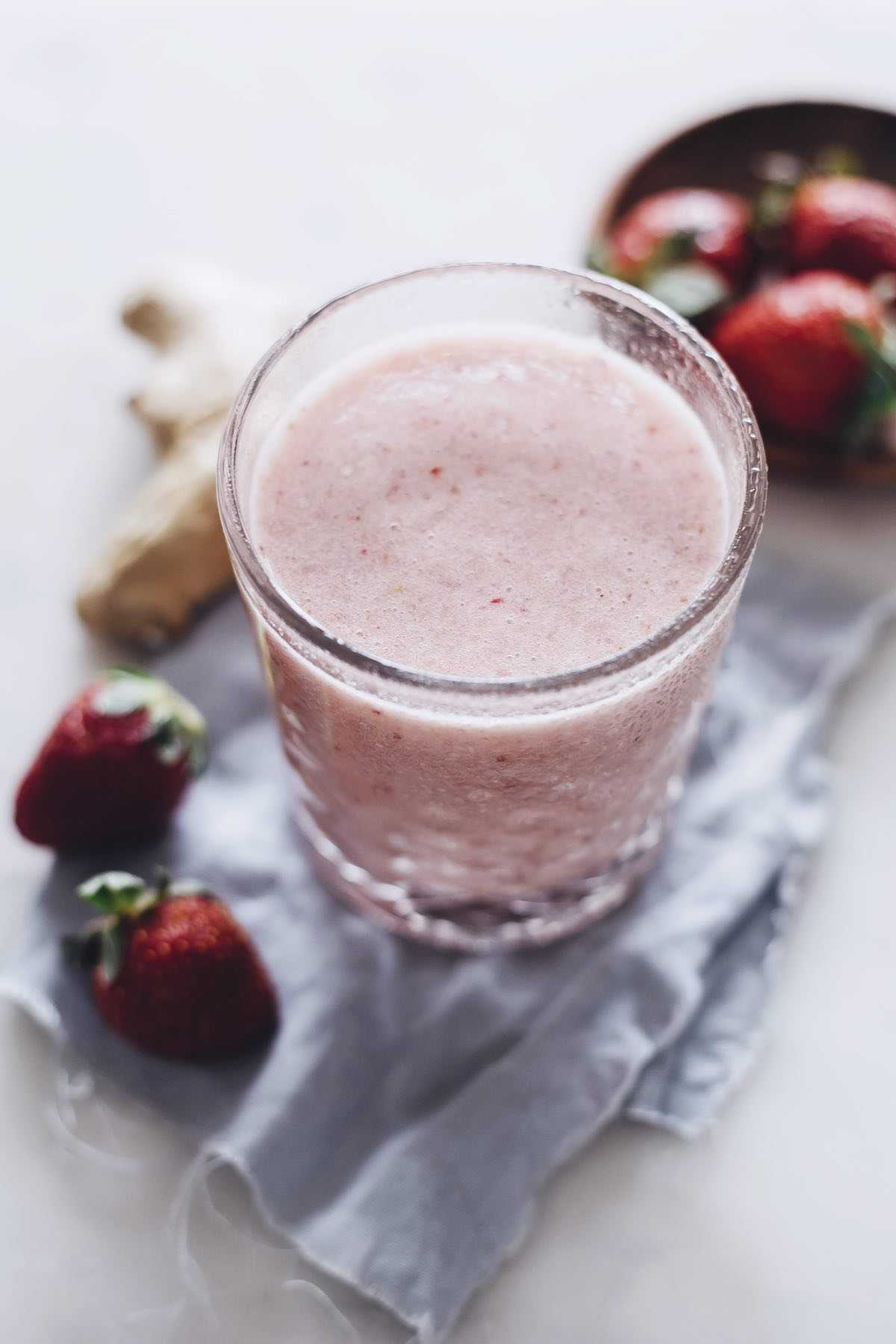 Coconut water has a mild flavor, so it works well with lots of other ingredients. I also have a few tricks I use to make the best coconut water weight loss smoothies:
1.Use chia seeds. Chia seeds thicken your smoothie, they absorb water to help you stay hydrated, and they contain soluble fiber to cleanse your colon and support weight loss. Win!
2.Add healthy fats. Contrary to popular (outdated) belief, eating fat does not make you fat. Healthy fat sources like avocado, coconut oil, nuts, and seeds aid your body's hormone production, which regulates the fat burning process. Cool, right? They also help your body absorb nutrients, and keep you full longer.
3.Spice things up. Spices like cayenne pepper, ground cinnamon, and ginger will help fire up your digestion to boost your metabolism.
My favorite coconut water smoothie is made with strawberries, green tea, avocado, and ginger. I love sipping on it while I'm cooling off after a workout, and I choose specific ingredients with my body in mind. Strawberries are antioxidant superstars, protecting my cells from free radical damage.
Green tea is also a source of antioxidants, but especially helps to replenish my energy and burn fat. Avocado is my good fat source to help keep my hormones balanced, and it's full of vitamins and minerals. Ginger gets my metabolism moving and helps me digest the smoothie. These ingredients taste amazing together, help me regain electrolyte balance after my workout, and help my body find a healthy weight naturally.
Coconut Water Green Tea Smoothie for Weight Loss
Scale
2 cups coconut water
1 cup brewed green tea, cooled
2 tbsp chia seeds
1 ripe avocado, peeled and cut into chunks
1 cup strawberries, fresh or frozen
1/2 inch ginger knob, peeled and grated
Blend all the ingredients until creamy.

Drink immediately.
More Healthy (And Yummy) Smoothies to Try: