Healthy Drinks
The Ultimate Antioxidant Smoothie for Vibrant Health
Although the cold season doesn't offer too many fresh ingredients to add in our smoothies and juices, there are still some exceptional foods to gain antioxidant protection from. Winter is the time when I experiment with new and nourishing ingredients, and today I created a super creamy and delicious smoothie, loaded with phytonutrients to reduce the oxidative stress and help the natural detox function of the body.

After all, there is still life after the berry season (although I have plenty frozen in my kitchen)!
The secret to preparing an antioxidant blast smoothie is choosing colorful ingredients, especially yellow and red-colored ones. These colors announce high concentrations of carotenoids, vitamin C and polyphenols. These are key antioxidants for reducing the damage of free radicals and help your body build a natural barrier against excess oxidation.
Winter is the season for persimmons and pomegranates, both with exceptional anti-inflammatory and antioxidant properties. Ever since I was introduced to the delicious sweet taste and creamy texture of persimmons, I stocked my fridge with them, especially when I can find them in the organic section.
Here are some highlights of the health benefits of these orange-colored fruits: they are rich in soluble fiber, which binds with toxins, excess cholesterol and estrogen, and flushes them out of your system. They contain a concentrated cocktail of antioxidant phytonutrients, especially vitamin C, beta-carotene, lycopene, and flavonoids with anti-tumor and anti-inflammatory effects.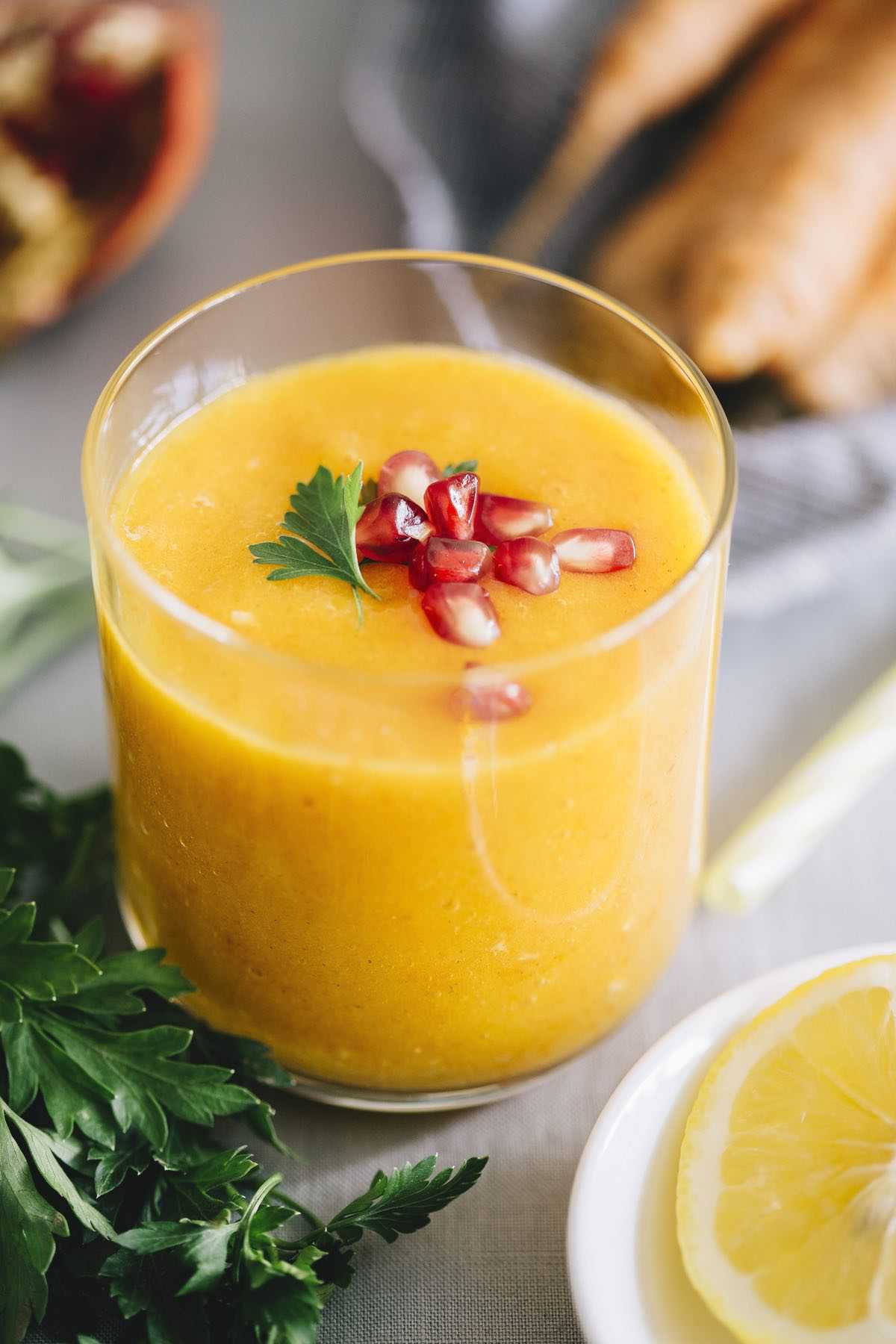 They also contain important doses of B complex vitamins, alongside with essential minerals such as potassium and manganese, which are involved in supporting detox processes at the cellular level.
For this smoothie I blended creamy persimmons with other antioxidant-rich foods, which are also in season during winter: lemons, for their high vitamin C load; oranges for their dietary fiber and beta-carotene; and pomegranate seeds, renown for their antioxidant-rich nutritional profile. I also added fresh carrots for their fiber and an extra beta-carotene kick.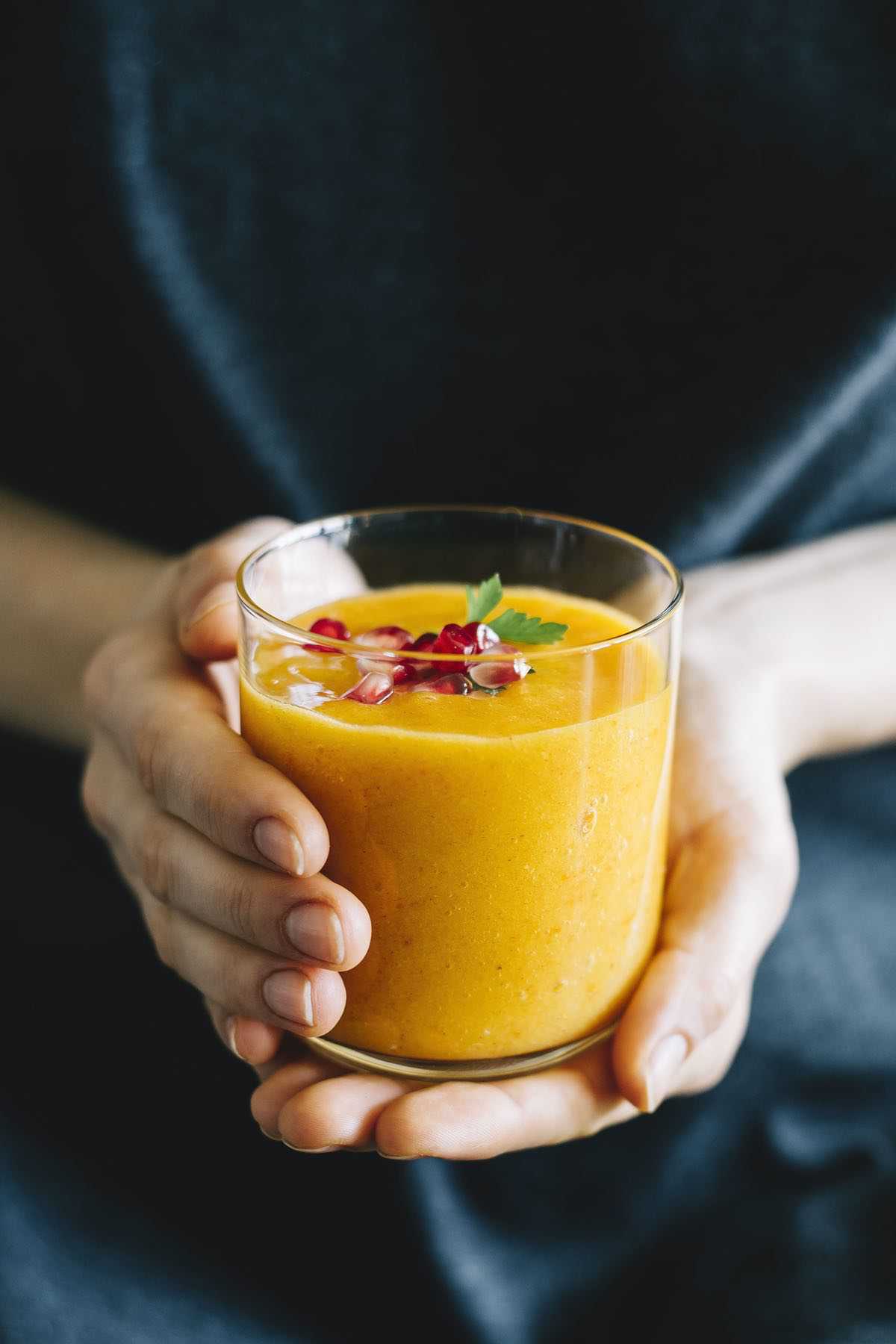 When you consume foods rich in antioxidants, especially in beta-carotene, make sure you pair them with a healthy fat source, such as avocado, coconut oil, or virgin flaxseed oil, to increase the absorption of these valuable antioxidants.
The Ultimate Antioxidant Smoothie for Vibrant Health
Scale
1

persimmon, cut into chunks

1

medium carrot, cut into small cubes

½

lemon, juice only

½

orange, juice only

5

–

6

parsley springs, fresh, roughly chopped

1 tsp

virgin coconut oil

1

pomegranate fruit, seeds only

½ tsp

turmeric powder
Add the pomegranate seeds into a mortar and crush them with a pestle to release their juices.

Filter the mixture using a tea strainer, to separate the juices from the solid part of the seeds.

Add the pomegranate juice into the blender, alongside with the rest of the ingredients, and process to obtain a creamy liquid.

Drink straight away.
More Healthy (And Tasty) Smoothie Recipes: