Healthy Smoothies
Acai Smoothie Breakfast Bowl
If you haven't heard about the powers of acai as a superfood yet, it's about time to give this tropical ingredient a try. Some healing properties of foods are media-invented, or at the very least hyped up, but when it comes to acai there's truth behind all the attention. It's an incredibly antioxidant-rich food, with a wide array of health benefits (anti-inflammatory, anti-bacterial, anti-mutagenic) and delicious taste to boot.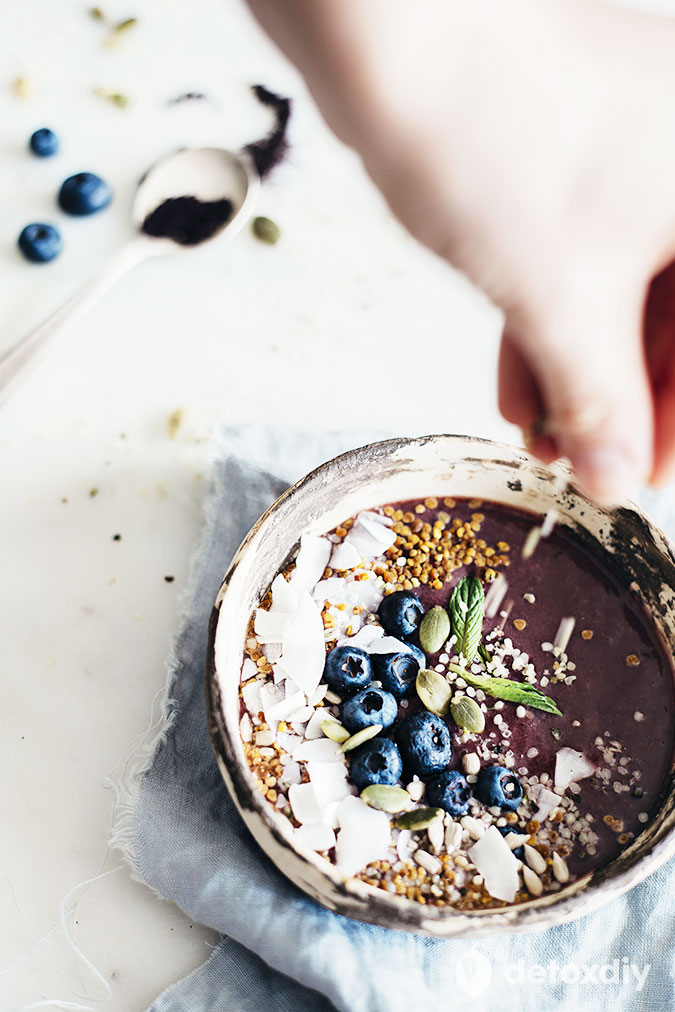 Thinking of your next breakfast recipe? Try this acai smoothie bowl for a complete and detoxifying meal to kickstart your day.
I try to stay away from pasteurized juices you can buy in stores, and because fresh acai is very hard to find I always go for the organic powder, which preserves most of its amazing health benefits. Another great way to consume it is by adding frozen pulp to your smoothies, but again this can be hard to find.
Here are just some of the amazing health properties of acai: It contains more antioxidants than any other berry (yes, including the revered blueberry), especially resveratrol, cyanidin-3-galactoside, ferulic acid, delphinidin, petunidin.
The nutrients in acai stimulate the immune system, making your body stronger while fighting off colds, flu, and bacteria; Acai also contains imressive doses of omega-3, omega-6 and omega-9 fatty acids to regulate hormone production and cell regeneration.
Acai also contains a wide array of minerals (magnesium, zinc, manganese, copper, potassium) and vitamins (A, C, B, especially niacin, vitamin B6, riboflavin, K) essential for the natural detox function of your body's cells. And last but certainly not least it contains fiber to help your body cleanse naturally by helping impurities and toxins make their way out.
Smoothie bowls are probably the best way to get the maximum benefit of acai, while also having a nutrient-rich and satisfying breakfast. Adding other nourishing ingredients such as coconut flakes (for healthy fat and a delicious taste), bee pollen (for the powerful enzymes, minerals, and vitamins it contains), fresh fruit (yes, you can combine acai with blueberries!) and seeds (hemp hearts, pumpkin seeds or sunflower seeds, for their high protein content) – is a good way to turn your acai smoothie into a rich, detoxifying meal.
So get playful with some amazing ingredients and see how quickly this becomes your go-to breakfast.
(You may also like: Mango and Coconut Smoothie Bowl)
Print
Acai Smoothie Breakfast Bowl
Scale
2

ripe bananas

2 tbsp

acai powder

1

&1/2 cup vegan milk (I used almonds for its mild flavor)
To garnish: coconut flakes, bee pollen, fresh blueberries, mixed seeds
Add the bananas, milk and acai powder into the blender and pulse to obtain a dense, creamy smoothie.
Pour evenly into the serving bowls, garnish with your favorite ingredients from above and serve right away.