I don't know about you, but ever since spring bloomed in force my body switched naturally on detox mode and salads are the mains on my table. When seasons change, our body cells vibrate on the same frequency and all the pulsing energy from outside is translated with this need to restore and revive. Nature has all the means to help us doing this, and it's not a surprise that fresh greens are plentiful at the farmers' market stalls. We have to take advantage of everything fresh and load our cells with energy and nutrients to sustain the natural detox function of our bodies.
I try to load my salad with all the fresh ingredients I can find, but especially the ones rich in antioxidants, because I know my body craves for fresh food to restore after a long winter diet based mainly on cooked, warming food. When it comes to nutrients, there's no other family more generous when nourishing our body cells, like the Cruciferous one. I'm talking about the most popular family of vegetables, the one which includes broccoli, cabbage, cauliflower, brussels sprouts, the mighty kale and other popular relatives. All these veggies are a real blessing for our body health – they contain amazing antioxidants, especially ones associated with anti-cancer effects, vitamins, minerals and fiber. All of them have detox properties, providing fresh nutrients to sustain the liver activity and fiber to help our system flush out the toxins from our cells.
To make this salad I used two of the most popular cruciferous relatives – broccoli and cabbage. I always recommend eating these raw or lightly cooked (steaming is the best cooking method to preserve most of their fantastic nutrients), so having them together in a salad sounds like the best treat for my body.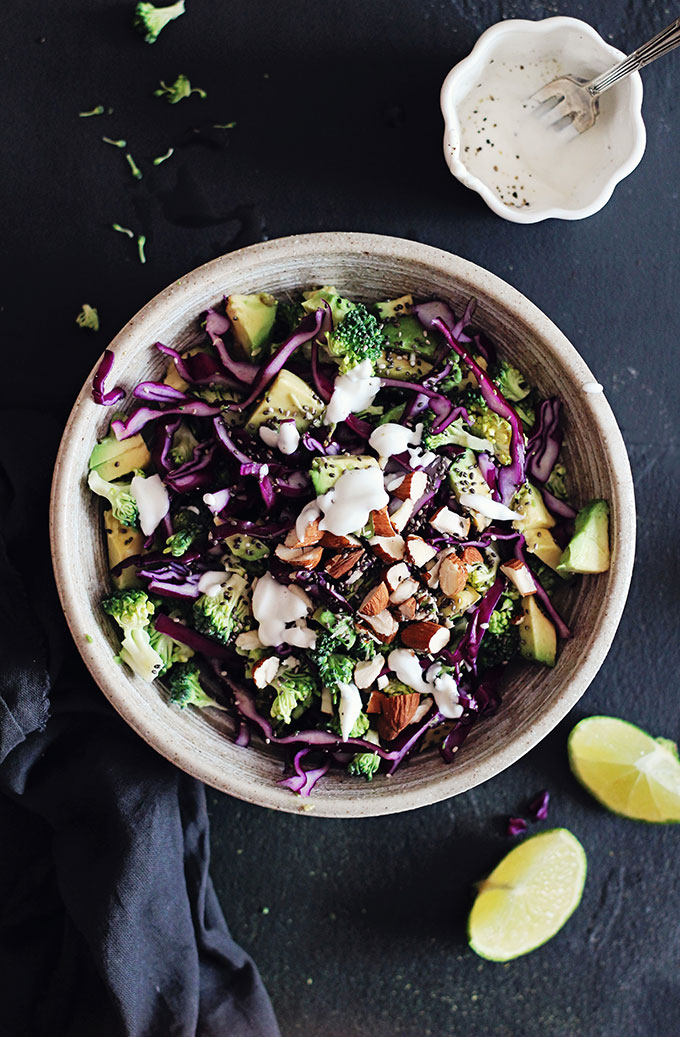 Broccoli has some very interesting effects on our health, and the most special one is the fact that it contains the perfect proportion between vitamin K and vitamin A, necessary to keep the necessary of vitamin D in balance. After a long winter, when we were deprived of the sunlight we need for metabolizing the vitamin D, I can't think of something more miraculous than this special property of broccoli. It is also loaded with some phytonutrients called glucosinolates, which support all the steps of our body natural detox.
Red cabbage contain a high concentration of antioxidants, with protective and therapeutic effects on our body health.
My salad contains both of these amazing cruciferous relatives, and also avocado, which adds a creamy texture along with minerals and healthy fats, necessary for a better absorption of the nutrients.

P.S. Make sure to sign up for our free newsletter to get instant access to our 1 Day Detox and Detox Waters eBook (it's free).
+ Take a look at the Detox Recipe Book. With over 195 detox recipes and 28 day meal plan, it is the only detox book you will ever need.
You may also like: